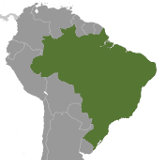 Most Reviewed By:

Brazil
Wikipedia: Brazil | Official Government Website: www.brasil.gov.br/?set_language=en
Updated: Mar. 17, 2014
About Brazil
Brazil
has a wet, fully tropical climate. Much of Brazil is tropical rainforest, and this rainforest is threatened by deforestation due to development, logging, and clearing for agriculture.
Brazil grows a small amount of tea, including in a garden owned by
Yamamotoyama
that grows Japanese-style green tea. Brazil is also an important source of a number of plants used in herbal teas, such as
Lapacho
. Brazil is also the origin of
Yerba Maté
, one of the few caffeine-containing plants other than tea and coffee, and a popular caffeinated tea-like drink.
Perhaps more importantly, Brazil is a vast reservoir of biodiversity, including a myriad of plants with potential uses in medicine, food, and undoubtedly herbal tea, many of which have not even been discovered or documented yet.
Styles of Tea Produced in Brazil
This is a selection, not an exhaustive listing, of the styles of tea most commonly produced in Brazil.
Best Brazilian Teas
The notion of the "best" Brazilian teas is subjective, because different people have different tastes. We present the most often-rated and highest-rated teas produced in Brazil, and allow you to draw your own conclusions.
Most Often-Rated Teas
Top-Rated Brazilian Teas
We need at least 3 ratings for a tea to calculate a percentile ranking. You can help us out by rating more teas of this style.