News, Updates & Announcements
Page 1 2 3 4 5 6 of 6 pages with 17 results
Re-creating our Facebook page
We recently deleted and re-created our Facebook page to reflect our name change from RateTea.net to RateTea. (Unfortunately, Facebook wouldn't let us rename the page.) Please
visit and like our new page
!
We have also created a
Tumblr for RateTea
, so all you Tumblrs can follow it. We are, of course, also still active on
Twitter
. You can find links to all these sites at the bottom-right of our page, in our
footer
, which we recently redesigned, giving easy one-click access to more pages on the site.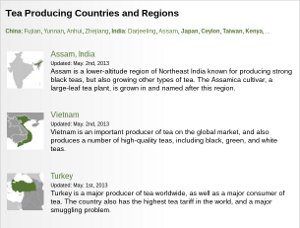 Regions are now highlighted on the homepage.
New focus on regions
The purpose of RateTea is to encourage people to develop their appreciation of tea and promote sustainability in the world of tea. One of the ways we do this is through helping people learn more about where their tea is produced.
We classify teas by
brand
,
style
, and
region
. We have recently undertaken a project to improve our articles on regions, and draw more attention to them. You will now find:
More extensive articles
More pictures
Regions featured on the homepage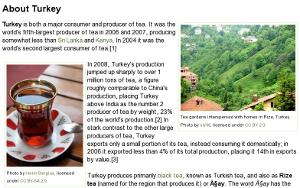 Many of the region articles now have more pictures.
The major regions, which include the countries of
China
,
India
,
Japan
,
Ceylon
,
Taiwan
, and
Kenya
, the Chinese provinces of
Fujian
,
Yunnan
,
Anhui
, and
Zhejiang
, and the two Indian regions
Darjeeling
and
Assam
, are now all available in a single click from the homepage. We have also added greater detail for some regions, including county-level detail to Yunnan province.
Beyond the common regions, we especially recommend exploring articles on regions of tea that people in the West are likely to know less about. We have greatly expanded our articles on some of these regions. Of particular interest are the articles on
Turkey
and
Vietnam
, and we also recommend checking out regions like
Indonesia
,
Malaysia
, and
South Korea
.
Highlighting recent reviewers
We have reworked the
Recent Reviews
box on the homepage so that instead of showing the most recent five tea reviews, it now highlights the five most recent reviewers. Recent reviewers will now be featured on the homepage for a longer period of time.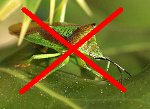 We have fixed a critical bug, one unlike this true bug of the
Hemiptera
order.
We just detected and fixed a critical bug that was keeping users from adding teas, and not giving any sort of meaningful error message. Our logs showed that at least 50 users probably encountered this bug. We want to apologize to any users who had encountered the bug!
Hopefully, all users will now find that they can now add new teas to our database and immediately rate and review them, when they want to review a tea that is not already listed, as described in our January newsletter
Users Can Now Directly Add New Teas
.
New region and style pages: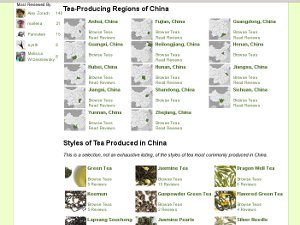 A screenshot of the new region page for
China
.
On a positive note, we also redesigned the pages for each style of tea and each tea-producing region, in the format and spirit of
our recent redesigns for the page for each brand of tea
. If you have not yet explored the
region
section of our site, which highlights the different tea producing regions, and the relationship between climate, geography, and the flavor and qualities of the tea in each region, now would be a great time to do so.
We list many teas down to the level of Chinese provinces and even individual counties, Japanese prefectures, and states and districts in India, Sri Lanka, and other countries, and our level of detail has been growing a lot recently.
More links with Wikipedia, Wikicha, Teaviews, and official websites:
In our ongoing quest to create as useful a tea resource as possible, we have also linked the region pages to Wikipedia as well as to official government websites and/or travel portals, and the pages on each style of tea, we have also linked to Wikipedia, Wikicha, and, when possible, categories of related reviews on TeaViews, a tea reviewing site that is older than RateTea, and that has a team of reviewers, rather than being open to the general public.
So go and explore our site, and, if you were one of the users who encountered a bug before, please try adding teas again! And let us know what you think of the redesigns, and, of course, feel free to bug us if you encounter further bugs!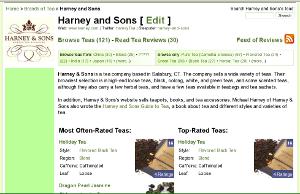 A screenshot of the new brand page, showing
Harney and Sons
.
We have launched a major redesign of the pages for each brand of tea on our website in order to make RateTea easier to explore. This redesign affects 300 pages on our site, and was launched Wednesday, February 15th, 2011, with some small follow-up changes and tweaks continued through today.
The new brand page contains many of the same features as before, but no longer has a full listing of the company's teas. Instead, you are pointed to the
browse teas
feature, a more powerful tool which can not only list a companies teas, but allow filtering by different properties like the teas' style, region, or whether the teas are loose-leaf,
organic
, or
fair-trade certified
.
What you will find:
Easier-to-access links to the listings of each brand's teas. These include the browse teas link, a search box to allow you to quickly search all teas from a particular brand, and links to browse all teas from a given brand by region or by style.
Online contact info for each brand or tea company: you will now see, when it exists, a link to the company's twitter and facebook pages, as well as the company's listing on Steepster, the other major tea-focused social networking website besides RateTea.
Listings of the top five most-rated teas and highest-rated teas for each brand, when available. Currently, this information is available for the major brands of tea, and there is partial information available for a number of small companies. You can help us to gather more data by rating and reviewing more teas from the smaller companies.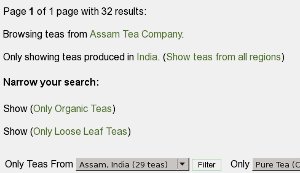 ---
The
Browse Teas
feature carries such benefits of filtering
pure teas
from
flavored teas
, filtering by region or specific styles of tea, or limiting one's search to loose-leaf teas or organic teas.
The advantages of using RateTea to find teas:
While some tea companies list their teas by region and by type (what we call
style
), relatively few tea companies have their whole catalogue of tea cross-indexed and searchable by both style and region, and, to our knowledge, no company has as exhaustive a list of styles of tea and regions of tea as we do. Furthermore, different tea companies use different classification schemes, so if you are used to how one company categorizes their teas, you may find it hard to find similar teas on another company's website.
By using RateTea to look up teas, you can also gain the advantage of
comparison shopping
, quickly locating different companies selling similar teas, as well as learning more about the teas sold by the tea companies you already buy from. We hope that our new brand page will draw attention to these features and benefits, and make them easier to access and use.
Stay tuned for continuous improvements to the site in the future. And please let us know about how these features work for you, as well as if there are any features you would like us to add.