News, Updates & Announcements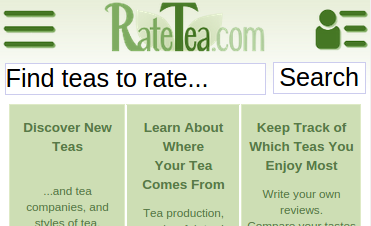 A screenshot of the new layout on a narrow browser.
We are super excited to announce that RateTea has been redesigned to be fully mobile-friendly. We also made a bunch of tweaks so it looks cleaner, more pleasing to the eye, and easier to read and use for everyone.
When we first designed our site, we made it only with desktop and laptop computers in mind, but an increasing portion of our users (almost 40% now) have been accessing our site on smartphones and other mobile devices with small screens.
The menus in the site's header now collapse into buttons that you can click to show the menus in a vertical orientation. The left menu takes you to the different sections of the site (like the green bar in the header) and the right menu is for registered users, like signing up, logging on and off, or going to your profile or your list of tea ratings.
Every page on the site has been redesigned to collapse gracefully on small screens. Pages with multiple columns collapse into single-column layouts. Grids of images will now adjust the number of columns based on your screen width, and tables with many columns collapse into a different format past the point where they become difficult to read. The site's footer also reorganizes itself if it becomes too cramped.
One site for all devices, no apps necessary
We chose this approach, responsive design, so that you can use our site easily on smartphones without having to install a separate app, and so that all our users and visitors to our site, can access all features on our site, rather than favoring either desktop or mobile users.
Apps require updating, whereas websites can be updated instantly without requiring users to download more software, so this allows us to make changes to the site display immediately for all users. We have also noticed that a common complaint from mobile users is that when companies design separate "mobile" websites, they often do not support all the features of the full website.
From here on, all new features to the site will be added in the new responsive layout, making them fully accessible from the start for both mobile and desktop users.
Try it out for yourself!
If you don't have a smartphone or other mobile device, or don't have it on hand currently, you can still see how the new design works by making your browser window narrower. Past a certain point, the layout will collapse.
This means, as a side benefit, the site will now be easier to use if you have it open in a small window on your computer!
Let us know if you find anything that doesn't work for you!
We've tested our layout out thoroughly, on every page of our site, on a wide range of screen widths, but we still may have missed a few things. If you encounter any major glitches in the layout, or any features that you are unable to view, access, or use on your smartphone, please contact us so we can fix it and further improve our layout!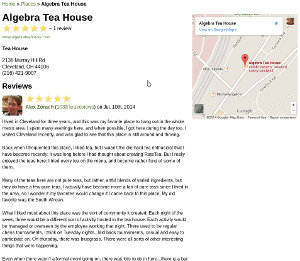 You can now review local tea places on RateTea! We added a major new section to the site where you can list and review tea shops, other stores selling tea, and places you can order and drink tea, like a tea house or tea room.
If you take a peek at the navigation bar at the top, you'll see a new tab,
Places
, between
Regions
and
Articles
. This will take you to a list-and-browse page of places, currently broken down by state, and probably to be broken down into finer regions later as more places get added. We may also add a map for browsing once enough places are listed to make such a map useful.
Also, for companies that have their own brand that also has retail stores, like
Adagio Teas
(which recently opened a few of its own retail stores, bringing it into competition with
Teavana
), we list the physical locations on the page for the brand.
We currently have five separate categories:
Tea Shops - Retail stores focusing on selling tea, usually loose-leaf tea.
Grocery Stores - We do not plan on listing all grocery stores, but we allow users to submit and review grocery stores, like Wegmans, that have a particularly good selection of tea.
Tea Houses - Cafes serving tea in a sit-down atmosphere, that focus primarily or exclusively on tea, rather than coffee.
Cafes or Coffee Shops - Cafes that serve high-quality tea, but where coffee and/or food is their primary focus.
Tea Room - Sit-down dining establishments serving tea as a meal, like afternoon tea or high tea, with a focus on service and atmosphere.
We plan to add further categories as demand arises.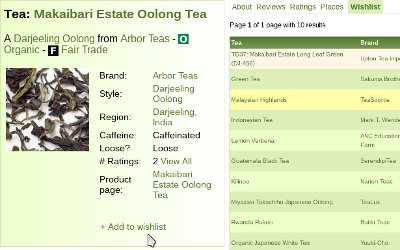 Another Feature: Wishlists
In addition to the places and place reviews, we have also snuck a few other features in recently. One of these is the
Wishlist
feature, which was suggested by one of our new top reviewers,
Sarsonator
.
Whenever you are logged in, and you are viewing the page for a tea or a tea review, you can now add the tea to your wishlist. The wishlist functions like a list of favorites or bookmarks. It's a great way to save or note teas that you may want to look up or reference later.
You can view your own wishlist by going to your profile. You can also view other people's tea wishlists, from their profile, if they have added any teas to them.
Check these features out and let us know what you think!
We are continuously developing the site, refining the interface, and fixing bugs. Let us know if there are any ways we can further improve any of these features, or if there are any other major features you'd like us to add.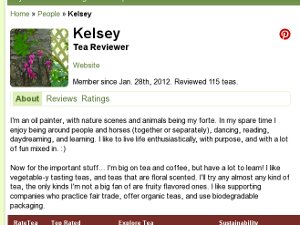 We recently upgraded our profile pages. The new profiles look much nicer and have a bunch of new features. Each profile now has three sections:
About
, a feed of tea
Reviews
, and a list of numerical tea
Ratings
.
You don't need to do anything to benefit from the new profile, but if you haven't yet filled out your profile we encourage you to do so. Log in and use the
Profile
link in the top right to see and edit yours.
Linking With Social Media Profiles
Previously we allowed users to enter their Twitter and Steepster screennames, as well as a tea blog and other website. We have greatly expanded the selection of social media sites offered, now listing Facebook, Google+, Tumblr, Pinterest, along with Twitter and Steepster.

New social media icons
For the self-promoters out there, this new tool will allow you to build more of an audience through your use of RateTea. Is your favorite social media site not listed? Contact us and we can get it added.
Filters on Review Feed and Rating List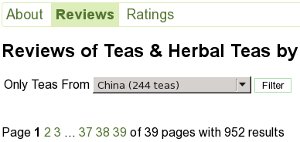 A screenshot showing the new filter in action
Want to browse reviews by a particular person, but only look at their reviews of pure teas, or only Japanese teas? Want a list of your own ratings of all Earl Grey teas?
We have long since had advanced filtering features in the search and browse functions of our site, allowing people to filter lists of teas by brand, style, and region. With the new profiles, we expanded this functionality to the feed of reviews on each user's profile. We also made this feature easier to access. Currently, the review feed and rating lists can filter by region and style, and we plan to expand this functionality further.
Visit your own profile, use the
people
page to locate other reviewers' profiles, or browse the
master feed of reviews
to check this out for yourself.
We are continually improving the filtering features, so if there is something that you want to be able to search or filter by which is not listed, please contact us and we can make it a priority.
We hope you enjoy the new profiles!
All past newsletters