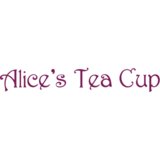 Search Alice's Tea Cup's teas:
Alice's Tea Cup
Web: alicesteacup.com

|

Twitter: AlicesTeaCup

|

Facebook: alicesteacup

|

Steepster: alices-tea-cup
Last Updated: Feb. 20, 2012
Alice's Tea Cup is a franchise of tea shops with a theme modelled after the book Alice in Wonderland. Alice's Tea Cup has three locations in New York City, and each one serves tea as well as selling loose-leaf tea.
We have not yet listed any teas from this tea company. If you would like to rate any of this company's teas, please add a new tea.