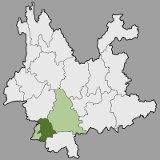 Most Reviewed By:

Lancang, Yunnan, China
Updated: Apr. 26, 2013
About Lancang, Yunnan, China
Lancang
(澜沧) or
Lancang Lahu Autonomous County
is a county located in Pu'er City in Yunnan Province.
Lancang is home to the Jing Mai mountains, a region well-known for producing Pu-erh tea. This region also produces
moonlight white tea
, a peculiar and hard-to-classify type of tea.
There are populations of the
Blang people
and the
Lahu people
in Lancang.
Styles of Tea Produced in Lancang, Yunnan, China
This is a selection, not an exhaustive listing, of the styles of tea most commonly produced in Lancang, Yunnan, China.
Best Teas
The notion of the "best" teas is subjective, because different people have different tastes. We present the most often-rated and highest-rated teas produced in Lancang, Yunnan, China, and allow you to draw your own conclusions.
Most Often-Rated Teas

2 Ratings

1 Rating
Top-Rated Teas
We need at least 3 ratings for a tea to calculate a percentile ranking. You can help us out by rating more teas of this style.