Home » Styles of Tea
»
Herbal Tea
»
Rooibos
Rooibos
Wikipedia: Rooibos | Wikicha: Rooibos | Teaviews: rooibos-tea
Updated: Apr. 4, 2012
About Rooibos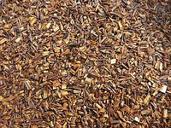 Red Rooibos
from
Drink The Leaf
Rooibos
, sometimes incorrectly called
rooibos tea
is a type of herbal tea made from the
Aspalathus linearis
plant, a legume native to
South Africa
. It is often called
South African red tea
or just
red tea
, owing to the red color of both the dry leaf and brewed tea. It is also called
redbush tea
and sometimes just
bush tea
, although it is distinct from
honeybush
, a similar tea from the same region made out of a different plant. The tea is made of both stems and leaves, and the dry leaves and stems have a fine texture.

Red and Green Rooibos
from
The Tea Set
Rooibos has a distinctive flavor; it is less bitter than most
tea
, but is often described as being among the herbal teas that most closely resembles black tea. Like most herbal teas, it contains no caffeine.
Rooibos is traditionally allowed to
oxidize
, turning it red, much like how
black tea
is allowed to turn black. More recently, however, people have begun to manufacture
green rooibos
, which is produced similarly to
green tea
. Rooibos is frequently used in herbal tea blends, which we list under
flavored rooibos
. Rooibos is also frequently mixed with black, green, or other teas; such blends are listed under
miscellaneous blends
.
Cultivation, climate change, and poverty:
Rooibos grows only in a small region of the West Cape province of South Africa. Efforts to cultivate it outside this area have proved unsuccessful, as it is dependent on the region's unique climate, soils, and other components of the ecosystem. Rooibos production is being threatened by climate change, and many farmers of rooibos live and operate in extreme poverty, complicating measures to adapt to the changing climate.[1]
Medicinal uses & health benefits of rooibos:

Luteolin is an antioxidant
present in rooibos.
Rooibos is frequently promoted as having
antioxidant activity
comparable to that of tea; a study validated this for both green and red rooibos.[2] The antioxidants in rooibos have been shown in mice to protect against radiation damage, by neutralizing the free radicals formed by exposure to gamma rays.[3] In addition, rooibos is widely used in traditional medicine for respiratory ailments such as asthma. A study on rats found significant dose-dependent
bronchodilatory
effect, providing a sound basis for its use in treating respiratory conditions.[4] Another study on rats found that rooibos provided significant protection against liver damage, in concentrations equivalent to that typically used when humans drink rooibos tea.[5]
Topical use of rooibos in skin care products:
Topical application of rooibos (such as its use in creams, cosmetics, and sunscreen) also shows some promise of health benefits. One study found that rooibos, honeybush and green tea, all had tumor-preventing properties in mouse skin, suggesting that these teas hold promise for preventing skin cancer.[6] More recent work has uncovered likely mechanisms by which topical use of rooibos and honeybush reduce tumour promotion, inflammation, and oxidative stress.[7]
References:
Varieties, Kinds, or Types of Rooibos
Best Rooibos
The notion of the "best" Rooibos is subjective, because different people have different tastes. We present the most often-rated and highest-rated teas in this category, and allow you to draw your own conclusions.
Most Often-Rated Teas:

Top-Rated Teas:

We need at least 3 ratings for a tea to calculate a percentile ranking. You can help us out by rating more teas of this style.