Search Harney and Sons's teas:
Home » Brands of Tea &raquo Harney and Sons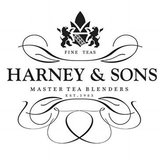 (888) 427-6398
Harney and Sons
Web: www.harney.com

|

Twitter: HarneyTea

|

Steepster: harney-and-sons
Last Updated: Apr. 23, 2012
Harney & Sons is a tea company based in Salisbury, CT. The company sells a wide variety of teas. Their broadest selection is in high-end loose teas, black, oolong, white, and green teas, and some scented teas, although they also carry a few herbal teas, and have a few teas available in teabags and tea sachets.

In addition, Harney & Sons's website sells teapots, books, and tea accessories. Michael Harney of Harney & Sons also wrote the Harney and Sons Guide to Tea, a book about tea and different styles and varieties of tea.
Most Often-Rated Teas:

Top-Rated Teas:

89

3 Ratings

87

3 Ratings

6

4 Ratings