Home » Tea-Producing Regions » India
India
Wikipedia: India | Official Government Website: india.gov.in
Updated: Sep. 3, 2013
About India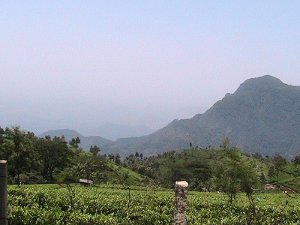 Tea gardens near Ooty, Tamil Nadu, India. Public domain photo by
Chaitanya Lala
.
India
is one of the most important tea-producing countries, and also the second-largest country by population. The tea plant is indigenous to eastern and northern India, and tea may have been produced and consumed in India for thousands of years in small quantities, probably for medicinal purposes, but the widespread cultivation of tea in India did not begin until the British introduced it from China.
Currently, India, together with
China
, is one of the two largest producers and consumers of tea. Most of the tea produced in India is consumed in India, although India does export substantial amounts of both mass-produced bulk tea and high-quality specialty or artisan tea.
Types of tea produced in India
Historically, India produced only
black tea
. In recent years, however, there has been a growth of green, white, and even oolong Indian teas, although the vast majority of tea and styles of tea produced in India are still black teas. The most famous tea-producing regions of India are
Darjeeling
and
Assam
, although
Nilgiri
and
Sikkim
also produce notable teas, and teas are grown in many other regions as well. Darjeeling has diversified into green, oolong, and white teas more than any other region of India.
India's climate and its influence on tea production
India has a diverse climate, but nearly all of the country has a strong seasonal pattern of precipitation following the pattern of the Asian monsoon, with dry winters and wet summers. Most of India is tropical or subtropical, and in this region, the tea plant grows best at higher elevations that are cooler and have greater rainfall. Some parts of India are too hot and dry to grow the tea plant.
Tea production in north and northeast India
Most of the best-known tea-growing regions of India are located in the northeastern corner of India, near the foothills of the Himalayan mountains, and near the borders with
Bangladesh
and
Nepal
. These regions include Darjeeling and Assam, as well as lesser-known regions including Arunachal Pradesh, Bihar, Jalpaiguri, and Sikkim. Although a band of similar climate extends west and north along the length of the Himalayas, almost the whole way to the border with Pakistan, there are only small, isolated tea gardens in the far northern areas, such as
Himachal Pradesh
.
Tea production in south India
South India has some important tea-growing regions as well, along the mountain range that runs north-south along the west coast of south India. The region in South India best-known for tea is
Nilgiri
, and
Kerala
also produces tea.
Tea-Producing Regions of India
Arunachal Pradesh, India

Browse Teas
Assam, India

Browse Teas
Read Reviews
Bihar, India

Browse Teas
Darjeeling, India

Browse Teas
Read Reviews
Himachal Pradesh, India

Browse Teas
Jalpaiguri, India

Browse Teas
Kerala, India

Browse Teas
Read Reviews
Nilgiri, India

Browse Teas
Read Reviews
Sikkim, India

Browse Teas
Read Reviews
Tamil Nadu, India

Browse Teas
Styles of Tea Produced in India
This is a selection, not an exhaustive listing, of the styles of tea most commonly produced in India.
Best Indian Teas
The notion of the "best" Indian teas is subjective, because different people have different tastes. We present the most often-rated and highest-rated teas produced in India, and allow you to draw your own conclusions.
| | |
| --- | --- |
| Most Often-Rated Teas: | Top-Rated Indian Teas: |