Home » Styles of Tea
»
Yerba Maté
Yerba Maté
Wikipedia: Yerba_mate | Teaviews: mate-tea
Updated: May. 6, 2013
About Yerba Maté

Green Yerba Maté
from
Upton Tea
Yerba maté
(pronounced "mah-tay"), sometimes called
Paraguay tea
, is an herb that has stimulant properties. Yerba maté is made from a species of holly,
Ilex paraguariensis
, and is one of several species of holly that naturally contain caffeine, others being
guayusa
and
yaupon
. In addition to caffeine, yerba maté contains other chemicals that make its effects somewhat different from those of tea or coffee. Because yerba maté is prepared similarly to tea, the drink made from it is often referred to as
mate tea
or
yerba mate tea
.
Yerba maté is available in different forms based on its processing, sometimes called green (unsmoked, unroasted) varieties and roasted/smoked varieties. Also, different parts of the plant are used to make beverages with different qualities of aroma and flavor.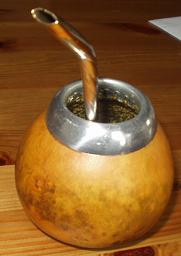 Yerba mate gourd
Photo by Olof Johansson
Traditional preparation & consumption:
Traditionally, yerba maté is served in a dried and hollowed gourd, with the loose leaf kept in the hot water. Sometimes the gourd would be protected with leather or even metal. Vessels in the shape of a gourd are also made out of various materials, including wood or metal (even silver). The gourd is then passed around and shared among a group of people. The drink is sucked through a straw, which has a built-in strainer at the base. These straws are often ornate and made of silver.
Health effects:
Yerba maté has not been as widely studied as tea, and there have been mixed results as to its health effects. It has been found to have significant
antioxidant content
which is likely preserved when it is consumed as tea.[1][2] It also contains vitamins and minerals, including vitamins C, B1, and B2, and phosphorus, iron, and calcium.[2]
However, there is a single case report of consumption of very large amounts of Yerba mate over a long period of time being pointed to as a likely cause of liver damage.[3]
The findings on yerba maté's effects on cancer are mixed, but can be explained when looking deeper at the various studies; two reviews have concluded that drinking hot maté is probably carcinogenic to humans, but that the effect was probably caused by the fact that it was a hot beverage and was scalding the mouth and throat, not by any substance in the maté causing cancer.[2][4] Although some epidemiological studies have found substantial increases in cancer risk associated with heavy (1 liter daily) yerba maté consumption, it is not clear whether this is due to the maté, to contaminants present in the maté, or is attributable to the maté increasing absorption of harmful chemicals in tobacco or other drugs; tobacco and alcohol use were high in the groups which showed increased cancer risk.[2] Contrasting with these studies, Yerba maté has also shown strong anti-cancer activity in a number of in vitro studies.[2]
Based on this research, it makes sense to be cautious about drinking mate from a straw, being careful to sip it slowly to avoid burning the mouth and throat, to obtain yerba mate from a source known to be free of contaminants, and to avoid heavy tobacco and alcohol use if you also consume large amounts of mate. There is no evidence that moderate mate use can cause any negative health effects other than by these three mechanisms, and other research points to potential health benefits and nutritional value for this drink, possibly involving anti-cancer potential.
Flavored yerba mate:
On RateTea we list only pure mate in this category. Blends containing mate among flavorings or other ingredients are classified as
flavored yerba maté
, unless they also contain tea, in which case they are classified as
miscellaneous blends
.
References:
Best Yerba Maté
The notion of the "best" Yerba Maté is subjective, because different people have different tastes. We present the most often-rated and highest-rated teas in this category, and allow you to draw your own conclusions.
Most Often-Rated Teas:

Top-Rated Teas:

We need at least 3 ratings for a tea to calculate a percentile ranking. You can help us out by rating more teas of this style.