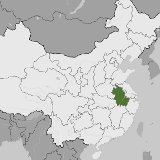 Most Reviewed By:

Anhui, China
Wikipedia: Anhui | Official Government Website: www.ah.gov.cn
Updated: Jan. 5, 2018
About Anhui, China
Anhui
(安徽) is a province of China that is a major agricultural region and is important in tea production. It is located in the eastern portion of China, inland, and has a diverse geography, including both flat and mountainous regions. Anhui is located near other important tea producing regions, and is bordered by
Jiangsu
to the northeast,
Zhejiang
to the southeast,
Jiangxi
to the south, and
Hubei
to the southwest.
The climate in Anhui is slightly harsher and more variable than in coastal provinces, although much milder than western China. The northernmost part of Anhui and the higher-altitude regions are unsuitable for growing the tea plant. Most of the tea in Anhui is produced in the southern region; even in this area, the climate is cold enough that the tree line is around 5,900ft (1,800m), and the highest suitable altitude for growing tea is much lower.
Anhui is the origin of a number of varieties of tea, including
Keemun black tea
(originating in and named for Anhui's
Qimen county
),
lu an gua pian / lu an melon seed
green tea, Huangshan mao feng, Tai Ping Hou Kui, and hyson green tea, which includes
chun mee
and
young hyson
. Anhui also produces a number of styles of tea that originated in other provinces, as well as various herbs that are used for herbal tea or blending with tea.
Tea-Producing Regions of Anhui, China
Styles of Tea Produced in Anhui, China
This is a selection, not an exhaustive listing, of the styles of tea most commonly produced in Anhui, China.
Best Anhui Teas
The notion of the "best" Anhui teas is subjective, because different people have different tastes. We present the most often-rated and highest-rated teas produced in Anhui, China, and allow you to draw your own conclusions.