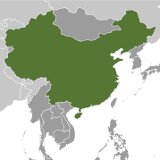 Most Reviewed By:

China
Wikipedia: China | Official Government Website: english.gov.cn
Updated: Oct. 3, 2017
About China
China
, known in Chinese as
Zhōngguó
(中国), meaning "central country", is one of the most important tea-producing countries. The written history of tea consumption in China goes back longer than in any other country, thousands of years. In ancient China, tea was originally used as a medicine; over hundreds of years it slowly shifted towards being viewed first as a tonic, and then as a beverage as it is today.
China, together with
India
, is one of the two largest producers and consumers of tea. In 2007, China produced over 30% of the world's production of tea, almost 1.2 million tons of tea out of the world's almost 3.9 million tons. Most of the tea produced in China is consumed in China, although tea is also an important export good for China.
black
,
green
,
white
,
oolong
, and
pu-erh
teas, as well as the less well-known
yellow teas
. Chinese teas are astoundingly diverse, as within each of these broad types of tea, there are countless different styles, both ancient and modern. China has also come to produce styles of tea that originated elsewhere, such as
sencha
, which originated in
Japan
.
Tea tends to be produced mostly in the provinces towards the south and east of China, where the climate is humid and ranges from tropical to subtropical, although teas are grown commercially as far west as
Sichuan
and
Yunnan
provinces, and as far north as
Shandong province
.
Tea-Producing Regions of China
Styles of Tea Produced in China
This is a selection, not an exhaustive listing, of the styles of tea most commonly produced in China.
Best Chinese Teas
The notion of the "best" Chinese teas is subjective, because different people have different tastes. We present the most often-rated and highest-rated teas produced in China, and allow you to draw your own conclusions.