Tea Producing Regions & Single Origin Teas
The region a tea is grown in is important because it affects flavor, aroma, and other qualities. This section of the site lists single origin teas and talks about what characterizes the teas from different regions.
Tea Producing Countries with the Most Teas on RateTea
We list both tea and herbal teas, and our list of countries reflects the combination of both.
Which Countries Produce the Most Tea?
The following map uses 2008 FAOSTAT data, color-coded on a logarithmic scale. Note that countries that produce commercial tea on the global market are highlighted, but they may only produce tea in a small subregion. For example, most of Russia is too cold to produce tea. A few countries not highlighted, like the U.S. and England, produce negligible amounts of tea commecially, and are not included in these figures.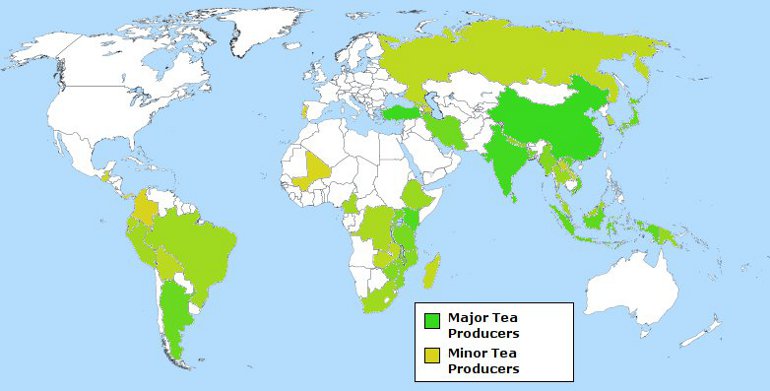 Browse All Countries Producing Tea and Herbs for Herbal Teas
You can also read about blends of teas from different regions, and teas of unknown origin.
A B C E F G I J K L M N P R S T U V Z
---
---
---
---
---
---
---
---
---
---
---
---
---
---
---
---
---
---
---
---