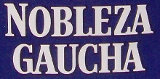 Most Reviewed By:
No one has reviewed any teas from this company yet!
Search Nobleza Gaucha's teas:
Nobleza Gaucha
Last Updated: Mar. 12, 2014
Nobleza Gaucha is a brand of Argentinian yerba mate. Nobleza Gaucha is widely available in Argentina. In the U.S. it is sparsely available in retail stores, and can also be purchased online through a variety of retailers.
Teas From Nobleza Gaucha
The following is a complete listing of the 4 teas from Nobleza Gaucha in our database.
If you want to review a tea not listed, you can add a new tea.
You can also add a new tea. Please search or browse this company's teas first, to avoid adding duplicates.