Fair Trade Tea
Wikipedia: Fair_trade
Last Updated:

Dec. 31, 2014
RateTea allows you to browse and search fair trade, filtering them by style/variety and country/region of origin.
Fair trade
is a social movement that advocates for trading conditions that promote
sustainability
and payment of a fair living wage to the people working to produce commodities in developing countries. Fair trade is multifaceted and hard to summarize briefly because it encompasses so many different aspects of trade.
On RateTea, fair trade certified teas are labeled with an

icon. In the store, look for one of the logos pictured below.
Why is there a push for fair trade?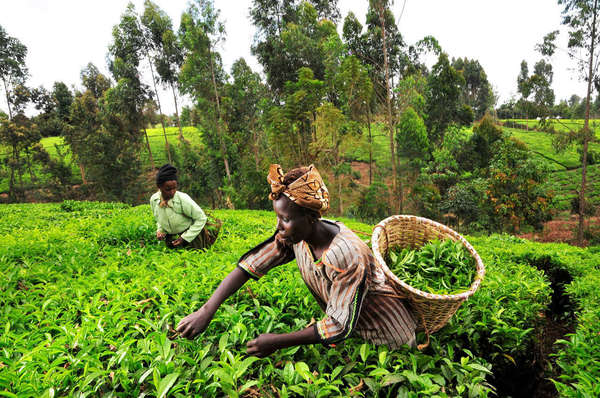 Tea Pickers in Kenya, near Mount Kenya, © Neil Palmer (CIAT),
CC BY-SA 2.0
.
As in many industries, the profit margins in the tea industry are much higher at the top of the supply chain (i.e. retailers and companies that specialize in blends) than at the bottom (producers—tea gardens and estates). This is in part because wealthier countries, regions, and corporations hold more power in the global marketplace than the usually poorer regions which produce tea. These circumstances can result in tea producers and plantation workers who gather the tea, and even estate owners, living in poverty and struggling financially even when tea companies are making comfortable profits.
Fair trade is one attempt to solve or at least mitigate these problems.

Fair Trade USA
Fair Trade Logo
Fair trade certification
Because fair trade goods often fetch a higher price than similar goods, companies selling fair trade goods need to have their operations certified by a non-profit organization. Certifying organizations include Fair Trade USA (Formerly TransFair USA), and the World Fair Trade Organization. The
Fairtrade Labelling Organizations International (FLO)
is an association of organizations that have produced an international logo, encompassing certifications from many different orgainzations.
Is fair trade tea more expensive?
Not necessarily. While some of the factors in fair trade result in a higher price for consumers, there are other factors that can contribute to a lower price. Fair trade involves direct sourcing from producers, eliminating layers of middlemen who each take their share of the profit. Fair trade can thus result in prices comparable to, and on occasion, even lower than products of similar quality.
Fair trade is not an instant solution.

FLO
's International
Fair Trade Logo
Although fair trade is by and large a positive movement with a positive impact on protecting human rights and working for economic justice, buying fair-trade certified tea is not an instant solution. One film,
The Bitter Taste of Tea
, offers a scathing criticism of the fair trade movement, claiming that it has done little to address the issues that it has set out to address, and does little more than assuaging the conscience of people buying the tea.[1]
There are other ways to advance some of the same values and goals as the fair trade movement without necessarily buying tea with the fair trade label. Purchasing tea that is sold directly from the source, or that is sourced directly and sold by a single retailer (rather than with multiple layers of middlemen) can achieve some of these goals. Some retailers undertake similar goals to fair trade without going for certification; for example,
Teatulia
, has used their profits to create a dairy cooperative and fund health and educational programs in the region of their tea garden in Bangladesh. Purchasing tea grown by farmer-owned cooperatives also helps achieve these goals--and many of these cooperatives do not bear the fair trade label. For example,
Obubu Tea
is a farmer-owned Japanese tea company, and it does not bear any fair trade label.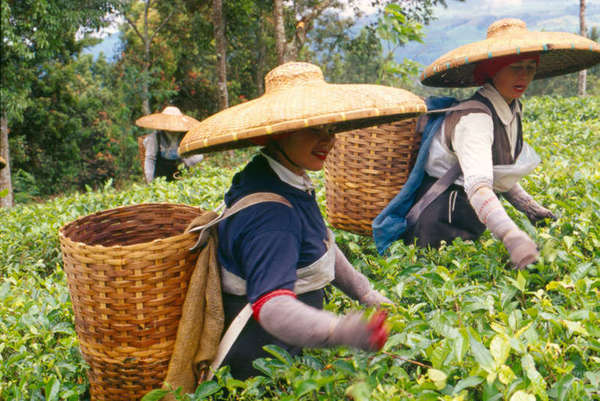 Tea Pickers in Cisarua Bogor, Indonesia, © Danumurthi Mahendra,
CC BY 2.0
.
Many tea companies, including both ones that sell fair trade tea and those that do not, have undertaken projects that go above and beyond in terms of empowering the producers and workers on tea plantations. These other programs include biodynamic and
organic certification
, and donation of a certain portion of revenues or profits to schools and non-governmental organizations working in the areas in which the tea is produced. One of the most powerful aspects of the fair trade movement is its potential to get people to think about environmental and economic aspects of how the tea is produced and traded. Once people begin to think of these issues, a myriad of new ideas come into being, for advancing human rights and prosperity for all people.
Which tea companies are leaders in the fair trade movement?
We recommend checking out
Rishi Tea
as the most well-established leader in fair trade tea.
Shanti Tea
is a new Canada-based company also worth mentioning, and
Arbor Teas
is another tea company with a large portion of fair trade offerings.
Equal Exchange
is one of the leaders in the fair trade movement, although it is best known for products other than its tea. Equal exchange has gone above and beyond the basics of certification in its promotion of the producer-owned cooperative model. Other important companies with a substantial selection of fair trade tea include
Choice Organic Teas
,
Hampstead Tea
, and
Numi Tea
.
References:
Further reading:
Read more articles on: