News, Updates & Announcements
Clickable map of Chinese provinces; provinces that produce tea or herbs used in herbal tea are highlighted in green.

One of the most exciting improvements we have made to the site lately is our development of interactive maps. Part of the goal and mission of our site is to help people learn about where their tea comes from, and to encourage people to explore
single-origin
artisan teas. Maps are a key part of this mission: they help make the regions that produce tea seem more real and relevant to tea drinkers.
Our old map on the
Region page
was not clickable, and the pages on specific regions had only small thumbnail maps in the corner of the page. Many subregions lacked maps entirely.
Now our world map is interactive, with countries that produce tea or herbal tea listed on our site being clickable. If viewed on desktop, hovering your mouse over a country will show its name.
Our pages on
China
,
India
,
Japan
,
Sri Lanka (Ceylon)
,
Taiwan
,
Kenya
,
South Korea
, the
United States
, and even
Indonesia
all now have clickable, interactive maps of states, provinces, or prefectures. In some cases, we have even created detailed, original maps for subregions, individual districts or counties of various tea-producing regions. Probably our biggest accomplishment is in
Assam
, where we now have pages on 18 subdistricts of Assam. To our knowledge we are the only tea website offering this level of detail. Other notable pages include
Yunnan
and
Fujian
provinces in China. We plan to add more maps on an ongoing basis, but we already have a core of maps covering most of the more important regions.
Another way we made our site easier to navigate is by tweaking the breadcrumb navigation, those little links at the top of each page, just under the site's header. These links now show the full chain of subregions, for example, the page on Huangshan now shows:
These links both help people see how the different tea-producing regions relate to each other, and can also help people to understand our website and navigate it more easily.
Why is all this important?
There are two main reasons to focus on single-origin teas and learn about where they are produced. One is for yourself, and the other is for the people who produce these teas.
For you: deepen your experience of tea
When you try teas from different regions, you both get to sample teas produced in different ways, due to different local techniques and traditions, and you also get to taste the influence of local geographic variability on the tea's flavor. This helps to develop your palate and makes it more likely that you will discover teas you really enjoy. It also helps you to be more informed when reading tea company marketing material, so you can make better buying decisions.
We hope that our pages on tea-producing regions can both help you to learn more about the teas you already drink, and locate more of the teas you like most, and buy them for a reasonable price.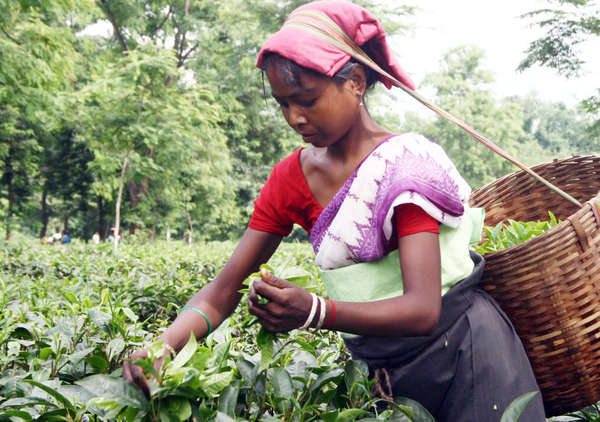 Tea Picker at the Amluckee Tea Estate, Amoni, Nagaon District, Photo ©
Diganta Talukdar (Flickr)
,
CC BY 2.0
.
For tea producers: help them earn a living wage
Single-origin teas provide a powerful way to promote economic prosperity and sustainability in the regions that produce tea. Many of the regions that produce tea, including remote areas of Northeast India and China, and Sri Lanka, are low-wage areas with problems with severe poverty, often associated with human rights abuses as well as environmental issues.
When buying blended teas, more of the skill involved in the production of the final product resides with the blender, and thus, a greater portion of the profits from blended teas go to the blenders, most of whom reside in already-wealthy Western countries like the U.S. or U.K.
With single-origin teas, because the tea is associated with the tea garden or a smaller factory in the region of production, a greater portion of the skill influencing the tea's final taste resides with the producer. These teas are thus able to fetch a higher price for the producers, and a greater portion of the price you pay as a tea drinker, reaches the producer.
Tea companies: please list more detail; it benefits everyone!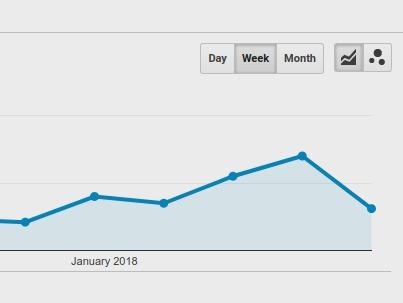 Our data shows that people explore deep region pages more when we create interactive maps than if we merely list the regions.
With the improved maps, we have been seing increased usage of the region pages on our site, especially for
deep
regions such as counties in China or districts of Assam. Our site, and its database of teas, is organized in a hierarchical way: when people search or browse for teas from a specific region, it will show all teas from all subregions. In review feeds, and the most- and top-rated tea listings, teas from all subregions are also combined into one place. Thus, when a tea is listed with more detail, it will appear on more pages of the site, and appear in more searches, than a tea with less detail listed.
Tea companies have an easy opportunity to benefit from this organization, and from our emphasis on region, by listing more detail for their teas. If a tea is single-origin, rather than just listing a tea with its country of origin, listing it as from the specific province or state is better, and listing it from the specific county or district (if we offer that level of detail) is best.
Whenever we add a tea to our site, we try to list as much detail as possible, but many tea companies do not openly publish as much detail as we now can list. Please get in touch with us if you have additional information about the origin of any teas listed on our site, or if you want us to make any updates or corrections. We are also adding new subregions on an ongoing basis, so if a particular region isn't listed, but you want it to be, let us know!
It's exciting to us when we discover a new region that produces tea, and we hope you can feel excited too, to explore sampling the teas from these different regions!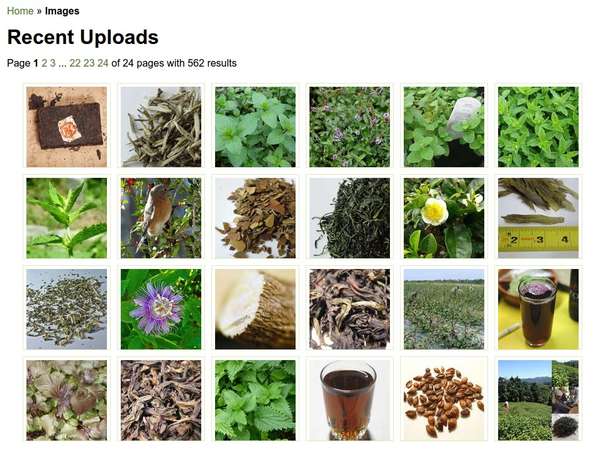 Screenshot of RateTea's Recent Image Uploads Page, Photo © RateTea,
CC BY-SA 4.0
.
When we launched in 2009, our site was pretty minimal and mostly text-based. It looked a lot like Reddit and older, "Web 1.0" review sites. Teas only had small thumbnail images and there were few higher-resolution pictures to be seen anywhere on the site. As the site expanded and we added more features and numerous articles, we still focused mostly on text and factual content.
Recently, we have recognized the importance of having larger pictures on the site, so we created photo album software, and began populating the site with pictures of loose-leaf tea, tea bags, packaging, brewed cups of tea, local tea shops, and tea plantations and other aspects of tea production.
Where to find the new pics?
You can find these pictures throughout the site. Click on the pictures in articles, and they will now blow up to a larger size, with an additional link on that page to an even higher-resolution version when available. Many pictures have commentary in the captions, so you can learn more about what you're looking at.
You can hit the
Images
tab in the site's header or mobile menu to browse a feed of recently uploaded pics. Or explore
regions
, navigate to a country and region of your site, and browse pictures. Although there are few such pics listed, the
places
section of our site, which features local tea shops and cafes serving loose-leaf tea, has some pics of local businesses as well.
Many of our pics have been sourced from sites like Flickr and Wikimedia Commons, and from the page from each image you can find the original source and explore other photographs of similar subject material or other works by the same photographer.
Do you have photos of something we lack? Upload your pics!

Screenshot of RateTea's

Photo Gallery of China

, Photo © RateTea

CC BY-SA 4.0

.

The page for each tea allows multiple photos to be listed for each tea. If you see a picture only of loose-leaf tea, but you have or can take a picture of the tea's packaging, the brewed cup, or the spent leaves after brewing, you can upload that. Or if you think you can take a particularly artistic or illustrative picture of the loose-leaf, something that looks nicer than what we have already, or something that shows the unique characteristics of that tea, go for it!

If you live, work, or travel in or near an area of tea production, we also love having pictures of tea plantations, production, and the people involved in it. If you explore the regions section of our site you can find locations and see what pics may be lacking.

Right now we are particularly lacking in photos of local tea shops and other local tea businesses, listed in the places section of our site. Look up your local region and see if local tea shops are listed, add them if necessary, and then upload your pictures!

After uploading a picture, you can edit the title of the photo, and you can also add a description and written commentary underneath each photo.
Respect copyright!

Tea Picking in Guilin, Guangxi, Photo © Thomas Bächinger,

CC BY-SA 2.0

.

All of the images on our site have copyright notices, crediting the photographer or copyright holder, and the source of the photo when it was taken from an external source. There is a mix of photos with different types of licensing; some photographers have granted permission for us to use pics only on RateTea, whereas others have released their work under broader licenses such as Creative Commons. Some of these licenses may have additional restrictions. A few images which we use only for product thumbnails are used under fair use, and serve only to identify products and/or serve as a basis for comment or criticism.

When you upload a pic, if you own the copyright on it, you can choose how to license the pic: you can pick either a creative commons share-alike license (what we recommend, this will allow others to use your work and help it be distributed more widely, while making it illegal for people to use it without credit), or retain full copyright and grant permission only to RateTea. For externally-sourced pics that have been released with other licenses, we have many common licenses available in a list; if you need something added that is not listed, contact us! Some licenses are not compatible wiith our site; for example, without special permission from the copyright holder, we cannot accept pics licensed under "no commercial" licenses because we generate revenue from advertising.

If you run a website or blog, feel free to use our database of images as a source to find images, but make sure to only use photos licensed in such a way that it is legal to use them on your site, and make sure to respect the terms of the license. This includes crediting the photographer and copyright holder, naming and linking to the license, and linking to the source of the image, whether on RateTea or an original source if we have taken the image from elsewhere.

Enjoy!

When RateTea was founded in 2009, it was a home-brewed site of low consequence. The site has never sold anything, and we do not manage payments or collect any credit card or banking info. Initially, the website didn't use any sort of encryption.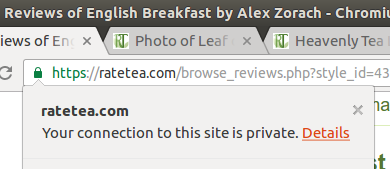 The padlock icon shows a secure connection in Google Chrome.
Over time, as identity theft has become a bigger issue, security has become more important. In today's day and age, even low-stakes website usage can have security consequences. We have never seen any evidence that a RateTea user's account has been hacked or compromised on our site directly. However, our old, unencrypted site posed a potential risk to users, in that people eavesdropping on a network could intercept your email and password when you logged into our site, which could pose a security risk if you used the same password at other sites.
In order to protect users, we have moved over to https, a more secure protocol.
Even before this, we have always stored our passwords in one-way-encrypted hashes. What this means is that (a) RateTea administrators cannot see or easily retrieve your password, even with full access to our database (b) if our site were to be hacked or compromised, the hackers could not see or easily retrieve your password.
What does the new security mean for you?
You don't need to do anything differently to benefit from the new encryption that we have implemented. Now, your email and password will be encrypted when you log on. Keep in mind, even with this security, RateTea is a public site and any other info you enter into the site can be displayed to the general public. Read our
privacy policy
for more details.
If you use the same password at RateTea and other sites, and are concerned about the possibility that someone has intercepted your password in the past, we recommend changing your password (by logging in and using the
Profile
link in the top right, then the
Change Password
link on the profile page), not just here but on other sites where you have used this same password.
Keep in mind that security is only as strong as the weakest link in a chain. If you use the same password at different sites, there are still other ways that your information can be stolen, beyond eavesdropping, such as if a server is hacked, especially if the server actually stores passwords in plain text (there are a number of high-profile cases of companies doing this, and you don't have a way of knowing this ahead of time), so it is best practice to use a different password at each site!
All past newsletters