Shiso (Perilla frutescens) as Invasive Plant, John Heinz National Wildlife Refuge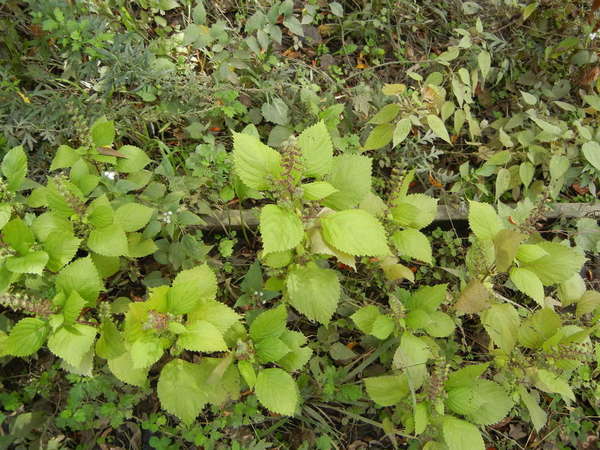 View Full Resolution
This photo shows shiso, (Perilla frutescens), also called Beefsteak plant, growing in a wild area at the John Heinz National Wildlife Refuge in Philadelphia, PA. This plant, used commonly in Japanese and Korean cuisine, was probably brought to the area by the local Korean population, and/or introduced as an ornamental plant (the red-leafed variety), and escaped into the wild.

Although not among the worst invasive plants in the region, it does out-compete other native plants. If you look closely, in this picture you can see it mostly out-competing white snakeroot (Ageratina altissima), a native plant with high value to insects.

This plant is quite versatile as a food plant; the leaves can be used as a vegetable or herb, steeped as an herbal tea, or blended with tea, and the seeds can be used as a spice. It is in the mint family and has a flavor slightly resembling anise, basil, and mint.
This image is featured in our article on
Invasive Herbs for Herbal Tea
.
Uploaded by

RateTea Editor
Joined Sep. 1st, 2009.