Redesigned Profiles with New Features
Tuesday, February 18th, 2014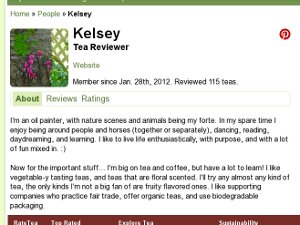 We recently upgraded our profile pages. The new profiles look much nicer and have a bunch of new features. Each profile now has three sections:
About
, a feed of tea
Reviews
, and a list of numerical tea
Ratings
.
You don't need to do anything to benefit from the new profile, but if you haven't yet filled out your profile we encourage you to do so. Log in and use the
Profile
link in the top right to see and edit yours.
Linking With Social Media Profiles
Previously we allowed users to enter their Twitter and Steepster screennames, as well as a tea blog and other website. We have greatly expanded the selection of social media sites offered, now listing Facebook, Google+, Tumblr, Pinterest, along with Twitter and Steepster.

New social media icons
For the self-promoters out there, this new tool will allow you to build more of an audience through your use of RateTea. Is your favorite social media site not listed? Contact us and we can get it added.
Filters on Review Feed and Rating List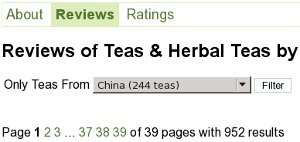 A screenshot showing the new filter in action
Want to browse reviews by a particular person, but only look at their reviews of pure teas, or only Japanese teas? Want a list of your own ratings of all Earl Grey teas?
We have long since had advanced filtering features in the search and browse functions of our site, allowing people to filter lists of teas by brand, style, and region. With the new profiles, we expanded this functionality to the feed of reviews on each user's profile. We also made this feature easier to access. Currently, the review feed and rating lists can filter by region and style, and we plan to expand this functionality further.
Visit your own profile, use the
people
page to locate other reviewers' profiles, or browse the
master feed of reviews
to check this out for yourself.
We are continually improving the filtering features, so if there is something that you want to be able to search or filter by which is not listed, please contact us and we can make it a priority.
We hope you enjoy the new profiles!