New Server, New Rating System
Tuesday, February 28th, 2017
Our New, Faster Server
We are super excited to announce a successful move to a new server!
Our site has been growing a lot; in January we saw a record 67,000+ visits. Along with this, however, we had been seeing occasional slow-downs, with pages sometimes taking 10 or more seconds to load during the busiest times. What the new server means for you is that our site will be consistently faster and more responsive, especially during busier times when many people are viewing it. We hope most pages on our site will load almost instantly!
Another improvement we made on the new server is to add additional security to our domain and mail server settings. Hopefully this will also reduce the portion of our emails that had been marked as spam, a problem that some of our users have reported.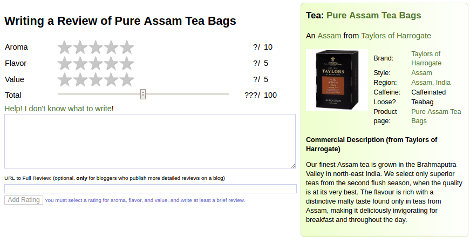 A screenshot of the rating page.
New Rating System
Perhaps even more exciting than our new server is our new rating system! This system has been months in the works, and is in part a response to feedback we've received from a lot of users over the past few years. We hope this new system will make it easier and less intimidating to rate and review teas, and also make it a lot more fun!
How does it work?
Star ratings instead of the old drop-down boxes. Aroma allows half-stars, translating into 1-10 ratings for finer detail. (You can experiment below!)
It works better on mobile than the old system with awkward drop-down boxes.
Total value is now a slider compared to the old system where you would select "overall" out of 10 and it would automatically calculate the total value. The slider populates automatically once you select the star ratings for aroma, flavor, and value, but you can then adjust it to any value from 0 to 100. This will allow more fine-tuning in your ratings, as well as the flexibility to give a higher or lower score than the aroma, flavor, or values would have allowed before.
A "Help" button displays a box with tips and written examples to help you write your review.
Tea info is on the right in a box, or above if you are on mobile, so you can see a bit of info on what tea you are reviewing, including its brand, style, and region of origin.
Better-labeled "URL to Full Review" box. This is an optional field for people who publish more detailed reviews on a blog and want to leave a "teaser" with their RateTea review. If you review teas on your blog, this can be a great way of getting visibility and sustained visits to your blog: because RateTea is primarily used by people as a reference, it is not as time-sensitive as blogs, and will tend to send gradual traffic to your website over a longer period of time.
Better user-experience in that the old rating box used annoying popups if you hadn't selected all the values. The new system discreetly dims out the button with a notice next to it, until you've selected all the buttons.
100% backwards-compatible with our old rating system. The old ratings are safe and sound, and have been converted to the new format. You can also edit your old ratings and fine-tune them using the new slider system if you want to tweak any to be a little higher or lower than before.
Try it out here:
| | | | | |
| --- | --- | --- | --- | --- |
| Aroma | | ? | / | 10 |
| Flavor | | ? | / | 5 |
| Value | | ? | / | 5 |
| Total | | ??? | / | 100 |
Go and explore, rate some teas, or tweak your old reviews!