New Layout & Homepage
Thursday, March 25th, 2010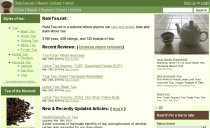 We are pleased to announce a redesign of
our homepage
and layout. The new homepage highlights features we've had for a long time, making it easier to find all the information that is already on RateTea.net.
Bringing attention to changes & updates:
The
tea of the moment
helps you to discover new teas, styles, and brands of tea.
Check the links at the top of the screen and you'll now find an
Articles
link, leading to our collection of articles on tea-related topics. The articles are continually being updated, and articles with recent changes and updates are listed first.
In addition to highlighting recent reviews, the homepage now also displays a
tea of the moment
and shows new and recently updated articles, as well as listing the most recently updated pages for styles and varieties of tea.
The new design is also easier to modify and maintain, so expect more additions in the future. Just as our number of ratings has grown by over 20% in the past month, we hope to continue improving the quality and functionality of the site.
Thank you!
We'd like to thank everyone who gave us feedback on our old layout and our new layout when we were developing and testing it. We are always open to suggestions, so if you have any further ideas of how we could further improve the layout or any aspect of the site, please
contact us
!