Review Pages & RSS Feeds
Thursday, September 2nd, 2010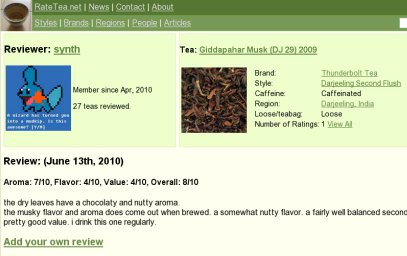 Review Pages:
We have restructured our site so that each review now has its own individual page (
view a random review page
). The new page highlights the reviewer, including how long they have been a member and how many teas they have reviewed, and also shows the brand, style, and region of the tea being reviewed. The reviews are still listed on the page for each tea.
The URL's for these pages, just like the pages for each tea, will remain valid as a permalink. This makes it easy for you to share your reviews or link to them from other websites.
RSS Feeds:
We also added RSS Feeds. These feeds allow people to be notified of newly added tea reviews. RSS Feeds are noted by the orange

icon. We have three types of feeds:
Master Feed - the feed on our homepage includes all newest reviews.
Reviewer Feed - These feeds, viewable from a person's profile, show the newest reviews from one particular person. These feeds are useful if you enjoy reading a particular person's reviews, and want to subscribe to their reviews as you would a blog.
Brand / Tea Company Feed - These feeds are available from the page on each brand of tea, and contain the newest reviews of that brand's teas. These feeds might be most useful for people who regularly order from one company and want ideas about new teas to try, or for tea companies wishing to read what their customers are writing about their teas.
How to Subscribe to Feeds:
There are many different tools available to facilitate subscribing to feeds.
Google reader
,
bloglines
, and
My Yahoo
are a few online services that can be used to subscribe to rss feeds; various applications on your local computer are available to read feeds as well. The web browser
Mozilla Firefox
can subscribe to feeds directly using its
live bookmarks feature
. People who wish to subscribe to feeds by email may check out the
feed my inbox
service.