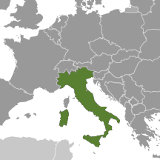 Italy
Wikipedia: Italy | Official Government Website: www.italia.gov.it
Updated: Aug. 11, 2017
About Italy
Field of Barley , © trolvag (Panoramio),
CC BY-SA 3.0
.
Italy
, although it does not produce tea, is more important in the world of tea than most people realize.
The mild, Mediterranean climate in much of the country is not suited for growing tea because it is too arid and in particular has dry summers, but it is ideal for growing a wide variety of aromatic herbs used both as herbal teas and for flavoring tea.
Italy is also the main source of the Bergamot orange, the flavoring for the well-known
Earl Grey tea
. Italy also produces barley used in
barley tea
.
Italy is a coffee-centric culture, and does not have as rich or developed a tradition of tea drinking as most European countries. Tea is typically seen as a medicinal product, something one drinks when sick, and more commonly consumed at home than when out and about. The market for tea mostly consists of herbal teas, especially medicinal ones. When Italians do serve black tea, it is often served with a slice of lemon.
Styles of Tea Produced in Italy
This is a selection, not an exhaustive listing, of the styles of tea most commonly produced in Italy.