RateTea Social Networking Icons
Last Updated:

Jun. 5, 2014
This page shows
social networking icons
for RateTea. You can use these graphics to link to RateTea from the header, footer, sidebar, or other location in a website.
For tea companies, we recommend linking these graphics to your brand's page on RateTea. For bloggers, we recommend signing up and creating an account, and linking these graphics to your profile.
| | | | | | |
| --- | --- | --- | --- | --- | --- |
| Size / Color and Style: | 50x50 | 48x48 | 30x30 | 24x24 | 22x22 |
| Light Green | (lighter) | | | | |
| Green | | | | | |
| Grayish Green: | | | | | |
Want an icon different from those shown here?
We will be glad to design you an icon to fit within the look-and-feel of your website.
Contact us
, letting us know what dimension of icon you want, and/or where on your website you wish to place the icon, and we will send one that is a better match for your needs.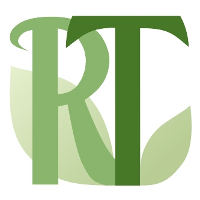 The RateTea logo consists of a green R and T, with the T a darker color, and leaves sprouting from the base of the T.
You can also make your own graphics:
A higher-resolution square version of the RateTea logo is visible on the right. You can use this graphic to construct your own social networking icons. If you do this, we ask that you follow the following guidelines so that people recognize the logo as the RateTea logo:


If you use a monochrome color scheme (all of your icons the same color / shade), you may make the RateTea logo in the same color as the other icons, and in this case, you may use any color you wish.


If your icons are different colors from each other, use green for the RateTea icon, but you may use any shade of green, and you may use a light-on-dark or dark-on-light color scheme, with various hues or saturations.


If you use anything other than a two-tone color scheme (like simple black-and-white), make the T darker than the R in the logo.


You may choose to include or remove the leaves in the background, and you may make them lighter or darker than their surroundings.


Keep in mind that the RateTea logo, both in its extended and square forms, is a trademark of RateTea, owned by Merit Exchange LLC. You may modify the logo only as permitted in the description above. You are licensed to use this to link to the site, but you may not use it for any other use except that permitted as fair use under trademark law.