Tea, South Dakota
Web: www.teasd.com | Wikipedia: Tea,_South_Dakota
Last Updated:

Feb. 13, 2013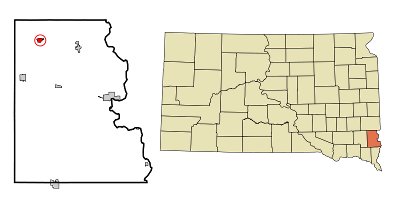 This map showing the location of Tea in South Dakota is provided by
Arkyan
from Wikipedia, licensed under
CC BY-SA 3.0
.
Tea, South Dakota
is a city of a few thousand people, the only town named Tea in the United States.
Tea is located in Lincoln County, SD, near Sioux falls, and is sometimes considered a suburb of that town, although it was founded as its own community, and is geographically separated from the Sioux falls metro area by farmland.
Named for tea
Tea lovers may be pleased to learn that Tea, SD was actually named after the tradition of drinking tea. According to the city's website, the town was originally named Byron, but, when the town wanted to obtain an official designation, the residents learned that the name Byron was already in use. The post office instructed the residents to come up with a list of 10 proposed names, from which one would be chosen. The residents came up with 9 names, and became stuck, at which point they decided to break for tea.
The group then agreed to choose the name "Tea" to commemorate the fact that people took a break for tea while choosing the name of the town. The name Tea was then chosen by the post office, and became the name of the town.[1]