World Tea East
Web: www.worldteaeast.com
Last Updated:

Mar. 5, 2012

World Tea East
, happening September 9th-10th, 2011, at the Pennsylvania Convention Center in Philadelphia, is a tea expo and trade show, run by World Tea Media, the organizers of the World Tea Expo. The World Tea Expo is a yearly event, occuring in Las Vegas, Nevada; this event has been such a success in recent years that World Tea Media has decided to launch a second event in the eastern US.
World Tea East is oriented towards the tea industry, including tea retailers, suppliers, and other support industries. Currently, the expo features over 100 manufacturers and suppliers, and over 2000 retailers are expected to attend. The event is limited to those directly involved in the tea industry, and is not open to the general public.
RateTea is pleased to be announce that we will be attending World Tea East, and are looking forward to connecting with other attendees.
Growth of the specialty tea industry: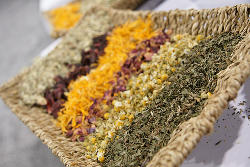 Loose-leaf tea and herbs on display.
Reflecting a cultural shift towards greater interest in tea in the U.S., the specialty tea industry has been rapidly growing in recent years. According to George Jage, president of World Tea Media, the growth of specialty tea retailers has been considerably greater than the growth of the food service industry as a whole.
World Tea East also focuses on trends within the tea industry. One rapidly growing specialization in tea retailers is
fair trade certified tea
, which, according to World Tea Media, has experienced 38% annual growth recently. There are also workshops focusing on tea-food pairings, a subject which is growing in importance to businesses, as restaurants begin to focus more on tea.
The Expo:
World Tea East, like the World Tea Expo, provides an opportunity for people in the tea industry to discover new products, refine their own products, improve their knowledge of tea and of the industry as a whole, and meet and network with others in the industry. Some highlights of the weekend include:
Reflections in Tea - An art exhibit by Michele Brody, raising money for the Japanese Red Cross, to benefit the residents of Fukushima Prefecture, the prefecture of Japan most affected by the Tsunami and nuclear disaster.


Exhibitions of tea and tea-related products - Tea companies and other businesses have an opportunity to showcase their products, both to gain visibility and to get useful feedback about what works, what doesn't, and what other related products are on the market.


Educational sessions, tea tastings, and workshops - These sessions feature a number of speakers and specialists from tea companies and related businesses. There are workshops focusing on tea itself, and numerous sessions related to marketing and running a tea business.
For more information:
For more information, you can view the
official press release
about this event.
Read more articles on: