Pineapple Weed, Matricaria discoidea, Blossoms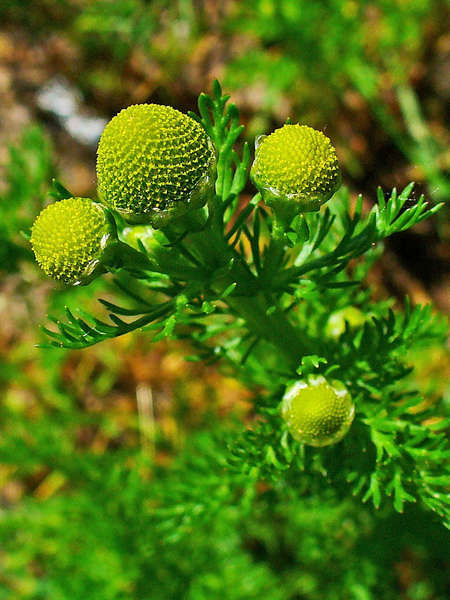 View Full Resolution
This plant bears an obvious resemblance to German Chamomile, the species most commonly used in herbal tea, but the flowers conspicuously lack rays. Both of these plants are in the aster or composite family, a family characterized by composite flowers consisting both of "ray florets", flowers that look like the "petals" of a typical daisy-like flower, and "disc florets", flowers. So these flowerheads pictured here are actually a collection of many disc florets, with no ray florets. See German chamomile blooms for comparison.

I personally prefer the flavor of this species, but it is not widely cultivated or available, for reasons I don't know. It tastes sweeter and more fruity, having a distinctive pineapple-like scent, whereas I think of chamomile as tasting more like apple.

It is a common weed on waste ground, often growing in sunny, gravelly areas alongside gravel driveways in rural or urban areas.
This image is featured in our article on
Pure Chamomile Tea
.
Uploaded by

RateTea Editor
Joined Sep. 1st, 2009.