Pure Chamomile Tea
Wikipedia: Matricaria_chamomilla | Teaviews: chamomile-tea
Last Updated: Oct. 31, 2016
↑About Pure Chamomile Tea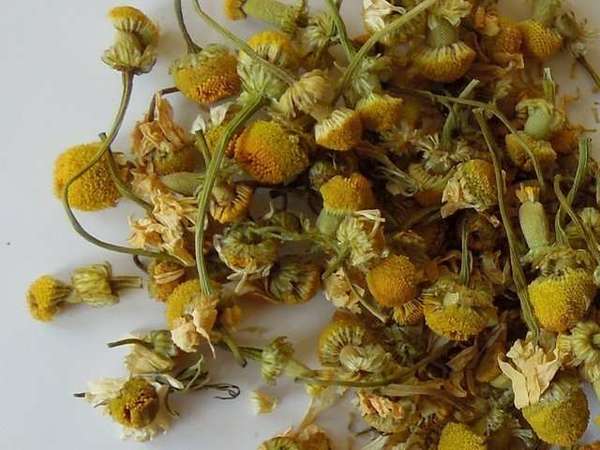 Dried chamomile flowers for use in chamomile tea.
Chamomile
, also spelled
camomile
, is an herb widely used in
herbal teas
, both on its own and in blends. Although called "tea", it is not closely related to tea, and is rarely blended with true teas. Chamomile tea is caffeine-free and is often described as having a calming or soothing quality. Its aroma is floral and fruity, and it tends to have a bitter aftertaste. It is popular as a bedtime drink.
Because chamomile is so frequently used in herbal blends, and many herbal teas containing chamomile and other ingredients are marketed as "chamomile" or "chamomile tea", the pure herb is sometimes labeled
pure chamomile tea
or
pure camomile tea
. On RateTea, this category is used exclusively for pure chamomile, containing no other ingredients. We classify any blends containing chamomile together with other herbs under
chamomile blend
.
The pure herb is available both from tea companies and bulk herb companies; on this site, we list both such sources for review.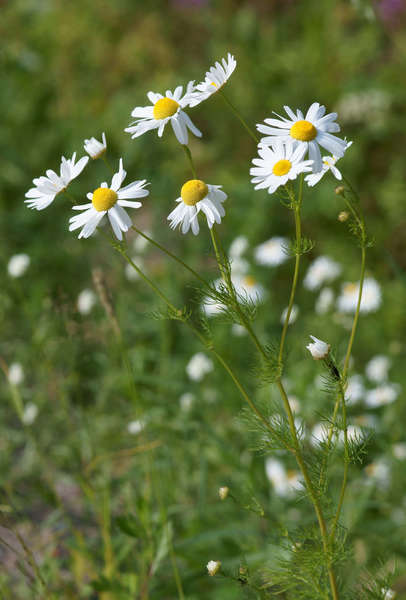 German chamomile, the species most commonly used in chamomile tea. Photo by
Kallerna
, licensed under
CC BY-SA 3.0
Different types or species of chamomile
Chamomile is not a single species, but rather a complex of similar species in the
daisy family
.
Matricaria chamomilla
or
Matricaria recutita
, often called
German chamomile
, is a species native to Europe, and is the chamomile most commonly used in herbal teas--unless otherwise specified, when you see chamomile for sale it usually refers to this species. This plant can be cultivated in a wide range of climates, and is commercially cultivated in places as varied as
Germany
to
Guatemala
and
Egypt
.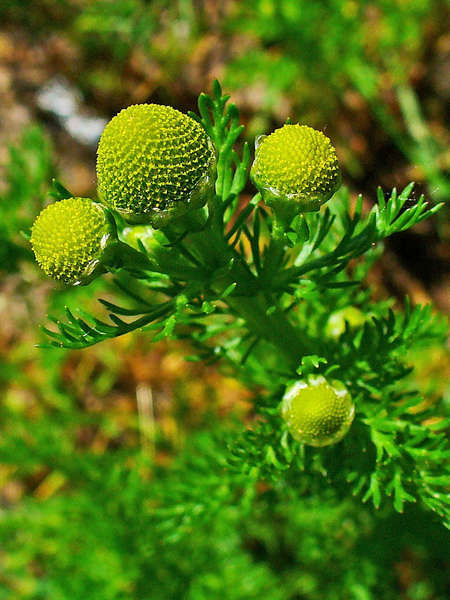 Pineapple Weed, Matricaria discoidea, Blossoms, © H. Zell,
CC BY-SA 3.0
.
Matricaria discoidea
, also called
Pineapple weed
is a closely related species native to North America and Northeast Asia, which can also be used for an herbal tea. It has an aroma that resembles chamomile, but has a distinct pineapple-like aroma as well. Brett of Black Dragon Tea Bar gives an account of
brewing pineapple weed
, and mentions that he thought it had a relaxing effect. Pineapple weed is commercially cultivated in Canada.
The
Matricaria
genus also contains numerous other less well-known species.
Roman chamomile,
Anthemis nobilis
, is another similar species, less closely related, and is less commonly used in herbal teas, but has numerous traditional medicinal uses. Although it is not in the same genus, Roman chamomile looks more similar to German chamomile than some of the members of the
Matricaria
genus look to each other.
Health benefits and medicinal uses
Read more about chamomile and sleep.
Chamomile has long been thought to have a relaxing effect. A study published in 2001 found that drinking chamomile tea was more relaxing than hot water, measured by observing heart rate, skin temperature, and other physiological indicators of relaxation.[1]
Recent scientific research points to a number of other health benefits of chamomile as well. A 2006 review of the scientific literature summarized that chamomile tea has been found to have moderate
antioxidant
and antimicrobial effects, and there is some evidence that it has potent anti-inflammatory activity, as well as antimutagenic, cholesterol-lowering, antispasmodic, and anti-anxiety activity.[2] Antioxidants are common among most teas and herbal teas. A 2008 study suggested that chamomile had the effect of lowering blood sugar, and could be useful for preventing or treating diabetes.[3]
Chamomile is sometimes recommended as a remedy for
acid reflux or heartburn
.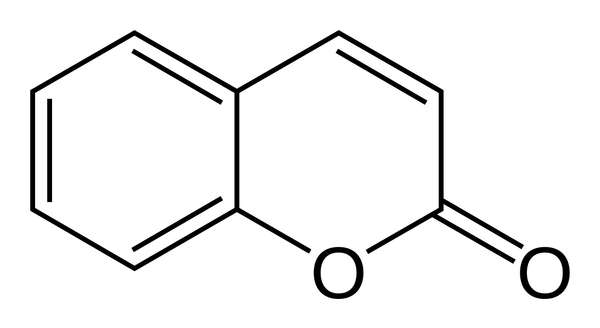 Coumarin is a compound that occurs in chamomile and is responsible for some of its health effects.
Risks, side effects, and allergic reaction
The main known side-effect of chamomile is that the herb can act as a blood thinner, and is one of many natural substances known to interact with the prescription blood-thinner Warfarin (Coumadin). Chamomile contains the chemical
coumarin
, which is chemically and biologically similar to Warfarin/Coumadin, and which can be dangerous when consumed in very high concentrations. However, the amounts in chamomile tea are small and safe for beverage use in normal, healthy people.
While not common, there are documented cases of severe allergic reactions to Chamomile. Chamomile is in the aster/daisy family, which also contains common allergens such as ragweed and mugwort; allergies to these plants can cause cross-reactivity and produce a reaction.[4] It is thus important for those with known allergies or risk of allergies to plants in this family to exercise caution with the use of chamomile tea or any products containing chamomile.
References:
↑Recent Pure Chamomile Reviews — RSS
73 / 100

Value-wise, I've found that cheaper chamomile really is best much of the time, since the quality doesn't seem to vary greatly from one brand to another. So when I run low or out, I just grab something inexpensive when I see it. Such was the case here, and I rate "value" highly for two reasons:
1) The tea was on sal...
Read Full Review
30 / 100

The only other reviews so far give it 90 and a 100 points, so it looks like this is a contrasting view. I found it to be both a little bitter and bland, without much floral flavor or aroma. I got a sachet of this as a freebie with another order, so they may have been giving away some out-of-date product.
Read Full Review
65 / 100

Let's play tea detective. This product was a bit perplexing—not because of anything having to do with its own properties, but because it took some digging to find exactly this stuff online. Lipton sells a "Relax" branded chamomile in retail—on its site and in some stores—but I don't know if this is the same stu...
Read Full Review
83 / 100

Though tagged here as retired, it seems McCormick has unretired it, for as of late October 2019, it is available in 10- or 25-count boxes on Amazon, and the web presences of big brick-and-mortar store chains like Wal-Mart, Safeway, Kroger and H-E-B. I got some in person at a regional Oklahoma chain today, for a little...
Read Full Review
95 / 100

This is good quality chamomile. After opening the heavy paper and foil pouch, the dry teabag has a much richer aroma than most chamomile that I've had. The contents of the teabag looks ground up and entirely flower parts with no stems or leaves.

It brews up a deep gold with a slight greenish hue. The aroma of the li...
Read Full Review
↑Top Reviewers
Review 3 teas to get on this list!
Advertisement
↑Most-Rated Pure Chamomile

20
9 Ratings

23
5 Ratings

42
5 Ratings

17
4 Ratings

98
3 Ratings
↑Top-Rated Pure Chamomile

98
3 Ratings

77
3 Ratings

42
5 Ratings

23
5 Ratings

20
9 Ratings