Photo of cup of Strawberry Vanilla Little Citizens' Herb Tea from Republic of Tea by Brytta Sóþword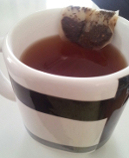 It looks a little more reddish in person, but this should give you an idea of the color and of the tea bag. I wish it was better than fannings, but it's still very good.
Photo by

Tea Reviewer
Joined Jan. 15th, 2014.