Flavored Rooibos
Last Updated: Dec. 3, 2015
↑About Flavored Rooibos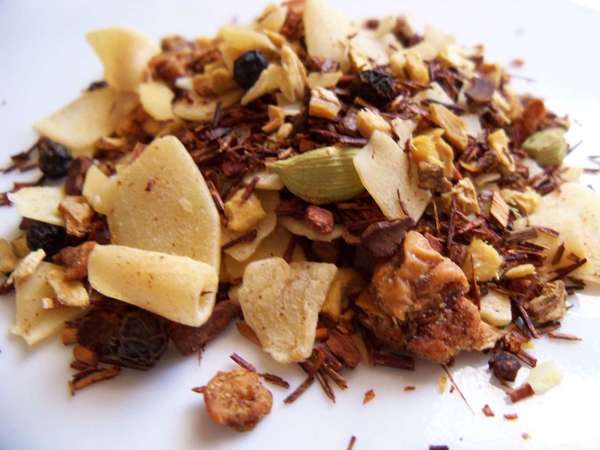 Zingiber Ginger Coconut Rooibos from Teavana, © A Girl With Tea,
CC BY 2.0
.
Flavored rooibos
is
rooibos
(South African "red tea"), which has been flavored or blended with herbs, spices, fruit, or other flavoring, much in the same way black, green, and white teas can be flavored or blended. Because rooibos is naturally caffeine-free, flavored rooibos is a caffeine-free
herbal tea
.
Blends of rooibos with other ingredients can be classified either here or in the more generic herbal tea category. On RateTea we classify blends as flavored rooibos if they contain "rooibos" in the name, or if rooibos is the primary ingredient. Other blends with rooibos as one ingredient among many, we put in the broader herbal tea category. Any blends of rooibos with tea or other caffeinated ingredients such as yerba mate, we include in the
miscellaneous blend
category.
Common flavorings or pairings
Rooibos has an aroma and flavor profile somewhat similar to black tea, and is often seen as a caffeine-free tea substitute. Because of this, many of the popular flavorings or blending ingredients used with black teas are also used with rooibos. Two of the most common and popular blends include
rooibos Earl Grey
, using oil from the bergamot orange, or
rooibos chai
(or more accurately, spiced rooibos), a spiced blend imitating
masala chai
.
However, rooibos is distinct from black tea: it is often described as mellower or smoother in flavor (less bitter, astringent, or tannic) and sometimes more fruity. Its flavor often combines well with berries such a strawberry or raspberry, or other fruits such as citrus, pear, or apple. Vanilla and coconut are also common and popular pairings.
↑Recent Flavored Rooibos Reviews — RSS
63 / 100

It's hard to rate this product because it doesn't sit still, even though it has just three stated ingredients: rooibos, vanilla flavoring, and vanilla bean. The quality and flavor seemed to vary a lot over time, within a given cup. Overall, it's a decent representative of flavored rooibos, and at times presents itse...
Read Full Review
60 / 100
Half-litre pot at home, made from fine rooibos leaves and tiny pieces of dried mango and sunflower blossom. Pours nearly clear copper brown (against white china) with no sediment. Intense aroma of rooibos leaves, with touches of sunflower and faint hints of mango. Bitterish flavour of rooibos, with notes of sunflower a...
Read Full Review
72 / 100
Half-litre pot at home, made from fine rooibos leaves, dried elderberries and tiny pieces of almond and cinnamon. Pours nearly clear copper brown (against white china) with no sediment. Intense aroma of almonds and elderberries, with notes of rooibos and touches of cinnamon. Sweetish flavour of elderberries and almond,...
Read Full Review
82 / 100

This is my favorite of Republic's chocolate line. The red velvet taste is distinguishable. It is a very good tea. I would like something with a bit stronger of a chocolate taste. I find that the rooibos tends to come out more, but then again perhaps that is because I oversteep this one.
Read Full Review
80 / 100

This is my go-to, basic red tea. It is very good but not excellent.
Read Full Review
↑Top Reviewers
Review 9 teas to get on this list!
Advertisement
↑Most-Rated Flavored Rooibos

72
9 Ratings

66
8 Ratings

55
7 Ratings

13
6 Ratings

44
6 Ratings
↑Top-Rated Flavored Rooibos

99
5 Ratings

83
4 Ratings

72
9 Ratings

66
8 Ratings

57
6 Ratings
↑Varieties, Kinds, or Types of Flavored Rooibos