Flavored Rooibos
Last Updated: Dec. 3, 2015
↑About Flavored Rooibos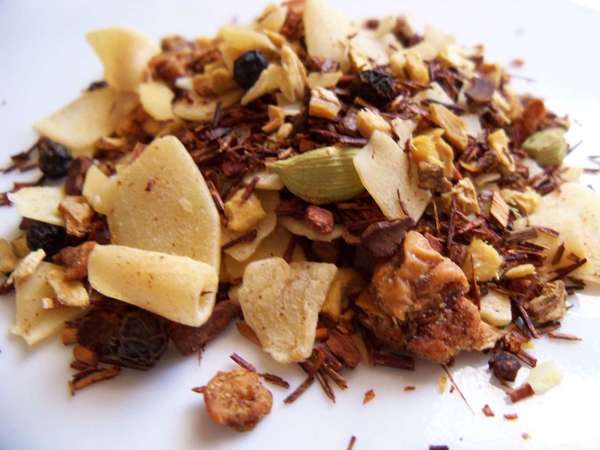 Zingiber Ginger Coconut Rooibos from Teavana, © A Girl With Tea,
CC BY 2.0
.
Flavored rooibos
is
rooibos
(South African "red tea"), which has been flavored or blended with herbs, spices, fruit, or other flavoring, much in the same way black, green, and white teas can be flavored or blended. Because rooibos is naturally caffeine-free, flavored rooibos is a caffeine-free
herbal tea
.
Blends of rooibos with other ingredients can be classified either here or in the more generic herbal tea category. On RateTea we classify blends as flavored rooibos if they contain "rooibos" in the name, or if rooibos is the primary ingredient. Other blends with rooibos as one ingredient among many, we put in the broader herbal tea category. Any blends of rooibos with tea or other caffeinated ingredients such as yerba mate, we include in the
miscellaneous blend
category.
Common flavorings or pairings
Rooibos has an aroma and flavor profile somewhat similar to black tea, and is often seen as a caffeine-free tea substitute. Because of this, many of the popular flavorings or blending ingredients used with black teas are also used with rooibos. Two of the most common and popular blends include
rooibos Earl Grey
, using oil from the bergamot orange, or
rooibos chai
(or more accurately, spiced rooibos), a spiced blend imitating
masala chai
.
However, rooibos is distinct from black tea: it is often described as mellower or smoother in flavor (less bitter, astringent, or tannic) and sometimes more fruity. Its flavor often combines well with berries such a strawberry or raspberry, or other fruits such as citrus, pear, or apple. Vanilla and coconut are also common and popular pairings.
↑Recent Flavored Rooibos Reviews — RSS
90 / 100

This blend of rooibos, orange peels, hibiscus, and cloves (the visually obvious ingredients...I think there's some cinnamon and ginger in this too) wasted no time rocketing to the top of my flavored-rooibos list, and very nearly the top of all herbals for me. The website says the tea is modeled after pomander oranges,...
Read Full Review
79 / 100

Orange-vanilla isn't a rooibos flavoring I had tried yet, but it's a favorite in general, both for black tea and going back to the childhood Creamsicle days. It's also labeled as naturally flavored. Therefore, even though I ordinarily wouldn't buy a 40-pack of a new tea taste-untested, I figured a gamble on this offe...
Read Full Review
66 / 100

I got this tea for my wife, who likes cranberry flavor, but she has avoided it because the main aroma and flavor is from the rooibos (which she doesn't like). So to please her, I drink it instead. ;-)

This is one of the very few flavored or herbal teas I've had containing rooibos where the rooibos clearly dominate...
Read Full Review
80 / 100
This mostly organic tisane is a mix of rooibos, cocoa, and coconut, along with a little vanilla cream flavoring. The aroma is mostly vanilla cream, with a little fresh grain. The flavor is a very nice blend of cocoa, coconut, and vanilla along with mellow rooibos. I take it with plant milk and sugar. Another very nic...
Read Full Review
78 / 100
Cup at home, made from a sachet containing leaves of rooibos and pieces of cinnamon, cloves, turmeric, cardamom, garlic, and cornflower - all organic and sprinkled with natural flavourings. Pours clear copper brown (against white china) with no sediment. Complex aroma of rooibos and a variety of spices, cloves, turmeri...
Read Full Review
↑Top Reviewers
Review 12 teas to get on this list!
Advertisement
↑Most-Rated Flavored Rooibos

72
9 Ratings

66
8 Ratings

47
7 Ratings

55
7 Ratings

44
6 Ratings
↑Top-Rated Flavored Rooibos

99
5 Ratings

83
4 Ratings

72
9 Ratings

66
8 Ratings

55
7 Ratings
↑Varieties, Kinds, or Types of Flavored Rooibos