Flavored Rooibos
Last Updated: Dec. 3, 2015
↑About Flavored Rooibos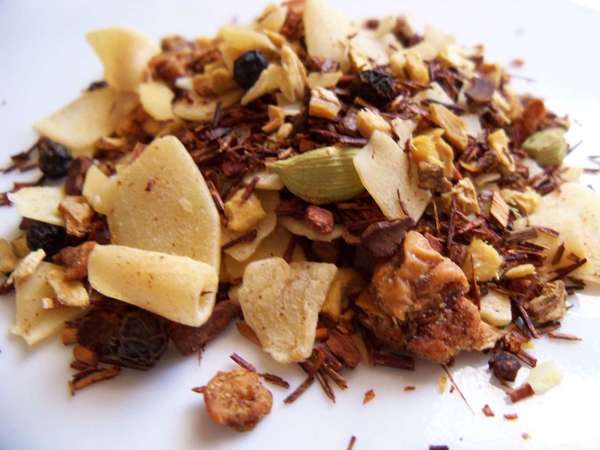 Zingiber Ginger Coconut Rooibos from Teavana, © A Girl With Tea,
CC BY 2.0
.
Flavored rooibos
is
rooibos
(South African "red tea"), which has been flavored or blended with herbs, spices, fruit, or other flavoring, much in the same way black, green, and white teas can be flavored or blended. Because rooibos is naturally caffeine-free, flavored rooibos is a caffeine-free
herbal tea
.
Blends of rooibos with other ingredients can be classified either here or in the more generic herbal tea category. On RateTea we classify blends as flavored rooibos if they contain "rooibos" in the name, or if rooibos is the primary ingredient. Other blends with rooibos as one ingredient among many, we put in the broader herbal tea category. Any blends of rooibos with tea or other caffeinated ingredients such as yerba mate, we include in the
miscellaneous blend
category.
Common flavorings or pairings
Rooibos has an aroma and flavor profile somewhat similar to black tea, and is often seen as a caffeine-free tea substitute. Because of this, many of the popular flavorings or blending ingredients used with black teas are also used with rooibos. Two of the most common and popular blends include
rooibos Earl Grey
, using oil from the bergamot orange, or
rooibos chai
(or more accurately, spiced rooibos), a spiced blend imitating
masala chai
.
However, rooibos is distinct from black tea: it is often described as mellower or smoother in flavor (less bitter, astringent, or tannic) and sometimes more fruity. Its flavor often combines well with berries such a strawberry or raspberry, or other fruits such as citrus, pear, or apple. Vanilla and coconut are also common and popular pairings.
↑Recent Flavored Rooibos Reviews — RSS
71 / 100

Chocolate and peppermint are two of my favorite flavors in all this mighty land. As such, I'm a major sucker for trying such teas, even expensive ones like this or Harney & Sons. So I grabbed a tin* of the R of T version at a local World Market, as a minor Christmas present to myself.

The dry-bag and wet-bag ar...
Read Full Review
66 / 100

Upon opening the foil pouch, this smells strongly and plainly of rooibos. Adding the water brings a surprisingly strong aroma of orange oil.

The flavors play well together. The orange lends sweetness to the tart hibiscus and rose hips. The nuttiness of the rooibos adds a nice, nutty complexity that isn't often foun...
Read Full Review
63 / 100

Too bad this tea has been discontinued, because it's an acceptable (not great to the point of blowing one's mind, but pretty decent) take on rooibos/herbal blending. As with other rooibos teas I've tried, the first impression wasn't anything to brag about, but it grew on me after a few bags, and I came to appreciate i...
Read Full Review
70 / 100
I remember liking this more a couple of years ago but it is still good. Caramel and floral notes good with lemon and honey.
Read Full Review
84 / 100

The first thing I notice about this tea is how very strongly it smells like cinnamon, I really like that smell. The dominating taste is definitely the cinnamon and also the cardamom. This is a very intense herbal tea and I wouldn't drink it for relaxation, but I would definitely drink it other times like in the morning...
Read Full Review
↑Top Reviewers
Review 9 teas to get on this list!
Advertisement
↑Most-Rated Flavored Rooibos

71
8 Ratings

66
8 Ratings

55
7 Ratings

44
6 Ratings

57
6 Ratings
↑Top-Rated Flavored Rooibos

99
5 Ratings

83
4 Ratings

78
4 Ratings

71
8 Ratings

66
8 Ratings
↑Varieties, Kinds, or Types of Flavored Rooibos