Flavored Rooibos
Updated: Dec. 3, 2015
About Flavored Rooibos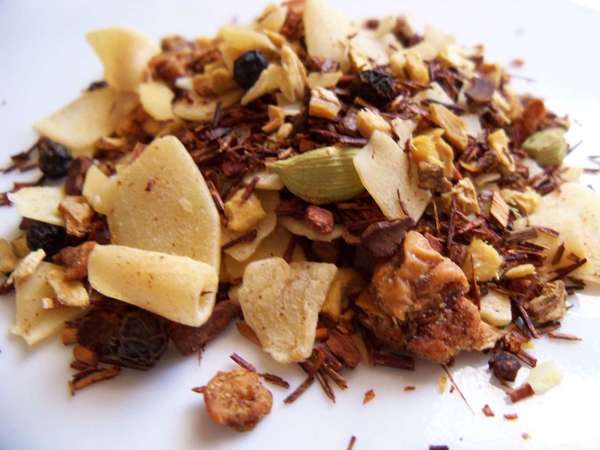 Zingiber Ginger Coconut Rooibos from Teavana, © A Girl With Tea,
CC BY 2.0
.
Flavored rooibos
is
rooibos
(South African "red tea"), which has been flavored or blended with herbs, spices, fruit, or other flavoring, much in the same way black, green, and white teas can be flavored or blended. Because rooibos is naturally caffeine-free, flavored rooibos is a caffeine-free
herbal tea
.
Blends of rooibos with other ingredients can be classified either here or in the more generic herbal tea category. On RateTea we classify blends as flavored rooibos if they contain "rooibos" in the name, or if rooibos is the primary ingredient. Other blends with rooibos as one ingredient among many, we put in the broader herbal tea category. Any blends of rooibos with tea or other caffeinated ingredients such as yerba mate, we include in the
miscellaneous blend
category.
Common flavorings or pairings
Rooibos has an aroma and flavor profile somewhat similar to black tea, and is often seen as a caffeine-free tea substitute. Because of this, many of the popular flavorings or blending ingredients used with black teas are also used with rooibos. Two of the most common and popular blends include
rooibos Earl Grey
, using oil from the bergamot orange, or
rooibos chai
(or more accurately, spiced rooibos), a spiced blend imitating
masala chai
.
However, rooibos is distinct from black tea: it is often described as mellower or smoother in flavor (less bitter, astringent, or tannic) and sometimes more fruity. Its flavor often combines well with berries such a strawberry or raspberry, or other fruits such as citrus, pear, or apple. Vanilla and coconut are also common and popular pairings.
Varieties, Kinds, or Types of Flavored Rooibos
Best Flavored Rooibos
The notion of the "best" Flavored Rooibos is subjective, because different people have different tastes. We present the most often-rated and highest-rated teas in this category, and allow you to draw your own conclusions.
Most Often-Rated Teas
Top-Rated Teas