Albania
Wikipedia: Albania
Updated: Mar. 17, 2014
About Albania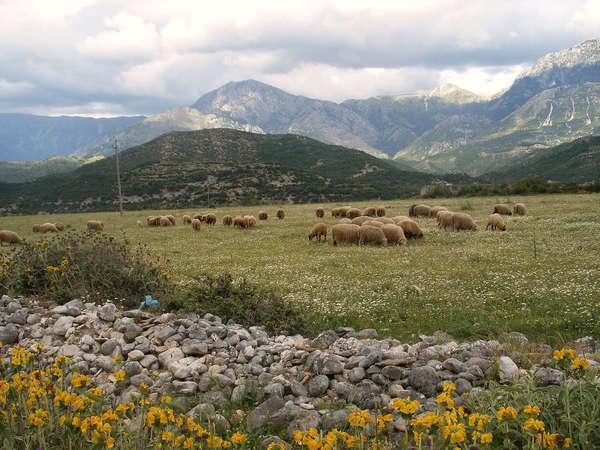 Pasture in Albania with Sheep and Mountains, © godo godaj (Flickr),
CC BY 2.0
.
Albania
is a country in southeastern Europe, on the Mediterranean. Albania is not important in tea production, but does grows a number of herbs used in herbal teas. Albania is a major producer of "mountain tea", an herbal blend also popular in Turkey, Bulgaria, Greece, and Macedonia.
Although it is a small country, Albania has a moderate diversity of climate zones, owing to a number of mountain ranges, including the Albanian Alps, running through the region. The highest point reaches to 8,839ft (2,694m).
Albania also tends to have quite high precipitation relative to other countries in the Mediterranean region. The southernmost part of the country, and northwest, are the regions with the highest rainfall. A few drier regions are produced by rain shadow. Precipitation is seasonal, with wetter winters and drier summers. Although the climate of most of the country is considered Mediterranean, the interior regions are also influenced by a more continental climate.
Styles of Tea Produced in Albania
This is a selection, not an exhaustive listing, of the styles of tea most commonly produced in Albania.
Best Teas
The notion of the "best" teas is subjective, because different people have different tastes. We present the most often-rated and highest-rated teas produced in Albania, and allow you to draw your own conclusions.
Most Often-Rated Teas

1 Rating
Top-Rated Teas
We need at least 3 ratings for a tea to calculate a percentile ranking. You can help us out by rating more teas of this style.