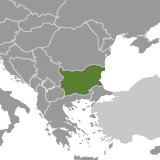 Bulgaria
Wikipedia: Bulgaria
About Bulgaria
Bulgaria
is a country in southeastern Europe, on the west shores of the Black Sea. The country has a highly variable climate relative to its small area: it lies at the southernmost end of the Continental climate zone, with the southern part of the country having a Mediterranean climate, but it has tall mountains which reach into colder alpine climates.
The climate, with relatively modest precipitation, and much of the country having occasional extreme cold spells in winter, and the mildest southern part of the country having drier summers, is not ideal for growing tea (which likes mild winters and high rainfall during the growing season). Accordingly, Bulgaria does not grow any tea commercially, but it does grow some herbs used in herbal teas, which are uncommonly sold by herb or tea companies.
Styles of Tea Produced in Bulgaria
This is a selection, not an exhaustive listing, of the styles of tea most commonly produced in Bulgaria.