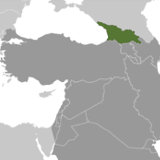 Georgia
Wikipedia: Georgia_(country)
Updated: Dec. 20, 2016
About Georgia
Georgia
is a country in central Asia, located east of the Black Sea, and is a small producer of tea The area along the black sea has a humid subtropical climate with high rainfall and moderate temperatures, ideal for growing the tea plant. This region borders tea-producing regions of Sochi,
Russia
to the north, and the Rize region of
Turkey
to the south.
Styles of Tea Produced in Georgia
This is a selection, not an exhaustive listing, of the styles of tea most commonly produced in Georgia.