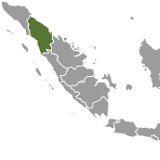 North Sumatra, Indonesia
Wikipedia: North_Sumatra
Updated: Nov. 6, 2017
About North Sumatra, Indonesia
North Sumatra
is a province in Indonesia, one of the country's three main tea-producing regions. North Sumatra is located on Sumatra, the largest island entirely within Indonesia, although not as large as some other islands that are also shared with other countries.
North Sumatra is the most populous province outside of those located on the island of Java, and it is also a major agricultural province, producing and exporting rice, rubber, cocoa, palm oil, coffee, tobacco, and various spices, in addition to producing tea.
The province's geography is diverse, consisting of a low plain along the ocean, rising up to a mountain range that runs along the length of the island. Much of the region has a tropical rainforest climate, hot and humid year-round, but with a distinct wetter season September through December.
Styles of Tea Produced in North Sumatra, Indonesia
This is a selection, not an exhaustive listing, of the styles of tea most commonly produced in North Sumatra, Indonesia.