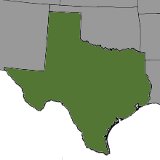 Most Reviewed By:

Texas, United States
Wikipedia: Texas | Official Government Website: www.texas.gov
Updated: Aug. 2, 2013
About Texas, United States
Texas
is a large state located at the heart of the southern U.S. Culturally and geographically, it is a nexus or transition point between what is considered the south (southeast) and the southwest, and it also contains part of the great plains.
Ecologically and climate-wise, Texas is a diverse state. The average rainfall in Texas ranges from very little in the westernmost part of the state (well under 14 inches), to quite high (over 54 inches annually) in the east. This produces a desert climate in El Paso, ranging through semiarid climates, to a humid subtropical climate in the east. Precipitation in Texas is seasonal; in the wettest part of the state, the summer is wettest. The central part of the state has a bimodal precipitation pattern with wetter spring and fall and drier summer and winter.
Texas is within the native range of
Yaupon
, a caffeinated holly, and there are at least two commercial operations in the state, growing and selling Yaupon. Texas does not commercially grow true tea, but in the wetter, milder regions of the state, such as along the gulf coast, it is possible to grow the tea plant.
Tea culture in Texas
Texas has a surprisingly active and diverse tea culture. The magazine and website
Tea in Texas
covers tea rooms and other tea-related happenings in the state of Texas.
Companies based in Texas focusing on loose-leaf tea include
Zhi Tea
in Austin, and
Silver Leaf Tea
, based in Justin. Our site does not cover bottled teas, but there is a brand of bottled teas,
Teas of Teaxs
, which includes an unsweetened iced tea brewed with black tea, lemon, and mint, named after the town of Dove Creek.
Styles of Tea Produced in Texas, United States
This is a selection, not an exhaustive listing, of the styles of tea most commonly produced in Texas, United States.
Best Texan Teas
The notion of the "best" Texan teas is subjective, because different people have different tastes. We present the most often-rated and highest-rated teas produced in Texas, United States, and allow you to draw your own conclusions.
Most Often-Rated Teas

2 Ratings

1 Rating

1 Rating
Top-Rated Texan Teas
We need at least 3 ratings for a tea to calculate a percentile ranking. You can help us out by rating more teas of this style.