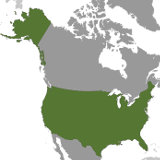 Most Reviewed By:

United States of America
Wikipedia: United_States | Official Government Website: www.usa.gov
Updated: Oct. 12, 2017
About United States of America
The United States of America
is not known for tea production. In the continental U.S., there are at least three areas that commercially grow tea. There is a single commercial tea plantation in
South Carolina
, now owned and managed by
Bigelow Tea
. There is also a very small small tea-producing operation in the Skagit Valley, in
Washington State
, run by
Sakuma Brothers
. Even less well-known than these two, there is a tea plantation in Alabama, called
Fairhope Tea Plantation
, and run by Donnie Barrett. Tea is also grown in
Hawaii
.
An organization, the
U.S. League of Tea Growers
, has been supporting and promoting a few operations in other areas, including Florida and North Carolina, but teas from these operations are not yet commercially available.
Climate and geography
Most of the lower 48 states are not suitable for growing tea. The west coast, with moderate temperatures ideal for the tea plant, has the opposite seasonal precipitation pattern from most of Asia, with wet winters and dry summers; the tea plant is adapted to a hot, wet growing season. Most of the rest of the country has temperatures too cold for the tea plant, leaving a narrow zone of wet, protected areas in the pacific northwest, and the hot, humid parts of the southeast as the only suitable areas. It is likely that tea could be grown around the gulf coast with its mild and humid subtropical climate.
Herbal tea production
In spite of its low rate of tea production, The United States, however, is a major producer of
herbal teas
. Many plants used in various herbal teas are native to the U.S., and other plants are also grown commercially in the U.S. The Pacific northwest states, Washington and
Oregon
, are a major source of commercial peppermint and spearmint. Many of the herbal teas grown in the U.S. never make it to the marketplace--they are consumed, often fresh, by the people growing them in their gardens.
There is also a caffeinated plant native to the United States,
Yaupon
; this plant, a close relative of
Yerba mate
, was used historically by Native Americans, but has only recently begun being cultivated commercially. It is currently grown in Texas and Florida, both part of its native range.
Tea-Producing Regions of United States of America
Styles of Tea Produced in United States of America
This is a selection, not an exhaustive listing, of the styles of tea most commonly produced in United States of America.
Best American Teas
The notion of the "best" American teas is subjective, because different people have different tastes. We present the most often-rated and highest-rated teas produced in United States of America, and allow you to draw your own conclusions.