A Black Tea from Morse's Tea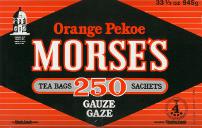 Member since Mar, 2011

✓ 1 teas reviewed
✓ 1 of Black Tea
✓ 1 of Pure Tea (Camellia sinensis)
✓ 1 of Morse's Tea
✓ 1 of blends
March 21st, 2011
Aroma
Flavor
Value
Total
8

of 10

5

of 5

5

of 5

90

of

100

Excellent
Excellent

Outstanding
why are the bags now PAPER GAUZE? I m very disappointed that Morses and King Cole tea bags are not real gauze anymore.
Comments:
george wrote:


on April 21st, 2011
I fully agree , the disapointment over the paper bags not guaze is overwhelming The tea was one of the best, but, I DO NOT like paper bags.
I live in Montreal and always stock up on Morse's Tea whenever in Halifax. I also have ordered it from East Coast Catalogue a couple of times. I don't understand why it's not available in Montreal even though King Cole is. (both Barbour). I also was very disappointed when paper bags were substituted for real gauze, and the bags contain less tea than previously. (I have kept a couple of gauze teabags as a souvenir!)

- Maureen Phinney
Login or Sign Up to comment or reply.