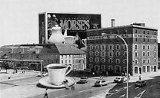 Most Reviewed By:

Search Morse's Tea's teas:
Morse's Tea
Last Updated: Sep. 25, 2017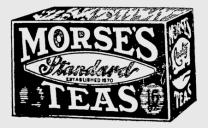 1911 Photo from Maritime Merchant
Morse's Tea
is the oldest brand of tea blended in Nova Scotia. It was founded in 1870 by John E. Morse, who opened a tea store on the waterfront in Halifax. Morse's Tea is now owned by Barbour's, which also owns the
King Cole
brand of teas.
In 1911, Morse's Tea was available in a number of different grades, with boxes selling between 30 cents and 60 cents, including 35, 40, 45, 50, and 60 cent varieties. An advertisement claimed that the 45 cent grade (Morse's Selected Orange Pekoe) was used by the two most successful tea rooms in Halifax. The 50 cent variety began faring poorly after the 45 cent variety was released. The 60 cent variety was a blend of upland teas from India and Sri Lanka.[1] In 1957, Morse's sold both tea and coffee, and its distribution was mostly limited to the four maritime Canadian provinces of Nova Scotia, New Brunswick, Prince Edward Island and Newfoundland.[2]
Morse's Tea is available in supermarkets around Nova Scotia, and also through by mail-order through www.eastcoastcatalogue.com.
References:
1. A Tea Stock in Itself, The Maritime Merchant and Commercial Review, Mar. 2, 1911, pp. 55.
2. The Tea & Coffee Trade Journal, Vols. 112-113, U. Michigan, 1957.
Most Often-Rated Teas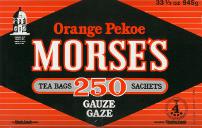 88
4 Ratings
Top-Rated Teas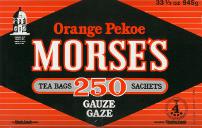 88
4 Ratings
You can also add a new tea. Please search or browse this company's teas first, to avoid adding duplicates.