Benefits of Linking Your Tea Company's Website to RateTea
Last Updated:

Mar. 16, 2018
Linking your tea company's website to RateTea can benefit your business in multiple ways, especially in the long-run. This guide explains how and why your business can benefit, and explores how to link most effectively.
The direct benefits of linking to us include encouraging your customers to review teas on our site, enhancing your brand visibility, and highlighting existing reviews, which can establish trust with potential customers. You also benefit by supporting, encouraging, and building a relationship with RateTea, a business committed to promoting the tea industry, and that is already promoting your company.
The best ways to link to us are to link directly to your brand's page, and if possible, pages on specific teas.
How and why can your business benefit from linking to RateTea?
Linking to us encourages your customers to rate your teas, getting you more customers in the long-run.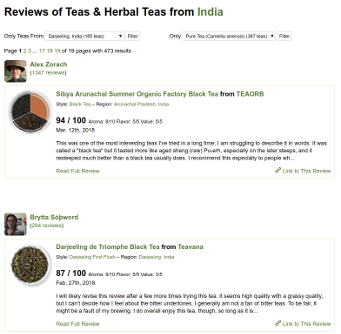 Reviews appear on many different pages on our site; reviews of single-origin teas with a lot of detail listed for style and region will appear in many different feeds.
Online reviews are an
effective way to recruit new customers
. Most online retailers nowadays have on-site reviews, in which customers can save a star rating and write a brief review to let other customers know what they thought of a product. While these reviews can be helpful,
they only reach people who are already looking at your website
.
Our website gets 30-60,000 visitors a month, more than most small tea companies. Regardless of your company's size, most of these visitors are likely to be people who are not already your customers, making the reviews posted on our site far more likely to recruit new customers.
When someone writes a review on RateTea, it shows up on multiple places on our site: our homepage, on the reviewer's profile and feed of reviews, and on review feeds for that style (type) of tea, and on the tea's region of origin. For teas with more detail listed for their style and region, a review will show up in multiple feeds.
Because people come to our site looking not just for reviews of specific tea companies, but also for reviews of specific types of tea, or teas from certain regions, you can enhance your company's visbility by sending your customers to review teas on RateTea, rather than just on your website.
New potential customers can trust our reviews more, because of our independence.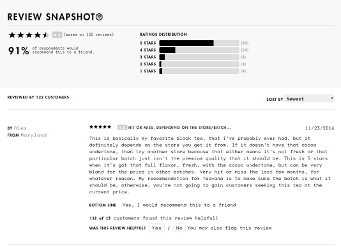 Many tea companies display on-site reviews, like this "Review Snapshot" on Teavana's old website. New potential customers, however, cannot trust these as much as reviews published on independent websites.
Trust is a major issue
in online reviews, and where the reviews are published matters:
Forbes
writes that
off-site reviews can have a bigger effect
than reviews on your own site.
On-site reviews are great for established customers who know your company, but they are less effective for establishing trust with new potential customers. Because on-site reviews can be easily fabricated (i.e. company owners or employees reviewing their own teas under a pseudonym), and because tea companies can filter or censor negative reviews, potential customers may view on-site reviews with skepticism.
RateTea prohibits anyone affiliated with a tea company from reviewing their own products. We apply strict anti-spam methods, and we regularly delete reviews and accounts that abuse our guidelines. By steering your customers toward reviewing your teas on RateTea, and then highlighting the reviews on your own site (see instructions below), you provide information that new, potential customers are more likely to trust.
Our terms of use also prohibit rants, personal attacks, and sweeping negative generalizations about tea companies. You can also trust that our site, while we will openly publish critical reviews, will not allow users to blindly badmouth your company. Instead, you can expect respectful, objective critiques that may even help your company refine your offerings, service, or marketing.
We already link to you!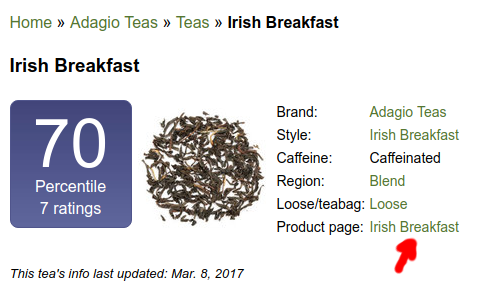 We link to a product page from the page for each tea, as well as other pages on our site, whenever we can find such a page.
Whenever we list a tea on our site, we search for the product page for that tea on the company website, and if we find an official page, we link directly to it. If you offer the tea for sale on your site, our pages will link directly to a page on your site where potential customers can buy your product! We are helping you to make sales! These links also may already be providing SEO (search engine optimization) benefits to your site, making it more likely that
your website
is returned in general internet searches for terms related to the teas you sell.
The links to your website appear on multiple places on our site:
on the page for each tea
,
on the page for every review of that tea
, and in some cases
on the page for an image of that tea
, when we've included an image from your site.
We also link to the homepage of your company or brand, from your brand page. If you have given us permission to use other photos from your websites, such as photos of tea plantations or productions, we will link to your website from every page where these images appear, such as pages in the
Regions
section of our site.
In the rare cases where we don't already link to you, get in touch with us! It's probably due to a problem on your site, such as not having a product page for each tea, us not being able to find the page, or the page's URL having changed as a result of a site redesign, without your old site properly using redirects to help us find the new page. Either way, we'll be glad to link our pages up with your site again!
Linking to us helps us, which helps you too!
Businesses and websites thrive when they are interconnected in a natural, organic way.
RateTea, at the heart of our purpose and business, is a website to promote tea culture. We are here to help get people into tea! If you sell tea at all, you are poised to benefit from RateTea's presence.
We are also eager to work together with tea companies; if you sell tea, we want to help you succeed! You linking to us helps to support us and give back to us, and helps to support the tea industry as a whole.
Because we do not sell tea, and we rely primarily on advertising for revenue, we are only able to generate a modest income even with the high volume of web traffic that most small tea companies would be thrilled to have. We do not have a large budget for advertisement, and we rely in large part on other people voluntarily linking to us, to help people discover us. Linking to us is the best way to support us and help us thrive.
We maintain a constant URL scheme, so you won't need to change your links.
One reason companies can be reluctant to link to external websites is the fear that these websites will go down or be redesigned or restructured, creating broken links. This can make you look bad to customers, and can also result in SEO penalties, harming your business in multiple ways, and creating extra work for you to do, monitoring and fixing broken links.
You don't need to be afraid of this with us. We have been in business for over 8 years, since 2009, and have never changed our master URL schemes for brands or teas, and we do not plan on doing so in the future. Whenever we do take pages down, we use redirects. If we were to ever change our URL scheme, which is unlikely, we would be careful to use redirects so there would be no need for you to change or update anything on your site.
Outbound links boost your performance in search results.
Outbound links have
benefits for search engine optimization
. Pages without outbound links consistently rank higher in search results than ones without them. Linking to RateTea's pages for your brand and teas is a logical and natural way to connect to related pages without having to link to pages on a competitor's website. Companies that place few or no outbound links from their website are not going to realize the full potential for sales volumes, as they will be losing out on search traffic.
We recommend linking both to RateTea and to other independent tea websites, blogs, and media outlets covering your brand.
Your site probably already links to social media sites that benefit you less than RateTea would.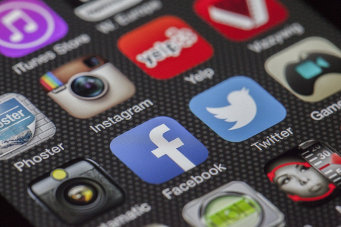 Social media giants like Facebook and Twitter have a broad, general audience. When you steer your customers towards these sites, your brand must competing for their attention with all the other people and businesses posting on these sites.
Most tea companies nowadays already link to several social media sites, such as Facebook, Twitter, Instagram, Pinterest, YouTube, Google Plus, LinkedIn, Tumblr, and others.
None of these companies
offer personalized support and
none
are specifically oriented towards tea. Instagram doesn't even allow sharing links to your website unless you pay to advertise. And on all of these sites, your posts are going to be competing for people's attention with posts from friends, family, and other people and businesses that they follow.
At RateTea, we are accessible and responsive, and want to help you succeed. We focus exclusively on tea. We usually respond to important concerns within one business day, and we are available to talk on the phone. We have access to a wealth of data that can help your business. We interact on Twitter and other social media, and we like sharing news about tea companies. To the social media giants, you are just another account in their system, but to us you are a valued partner in promoting tea culture.
How to link your website to us
Link specifically to your brand's page.
We
do not
recommend just linking to the RateTea homepage. This causes your customers to do extra work to have to find your brand and teas. Rather, link directly to your brand's page on our site.
Link product pages for each tea to the corresponding RateTea page for that tea.
Linking the product page for each tea on your site, directly to the corresponding page on RateTea for that specific tea, is a best practice that offers additional benefits. If your customer is looking for information on that specific tea, they will find it immediately without having to search or poke around on the site, and the same goes for a customer who is wanting to share a review of that specific tea.
This approach takes more work, but the work can be minimal if you have a small catalogue and/or your offerings change infrequently.
For companies with a large catalogue and/or those whose offerings change frequently, there can be ways to automate this custom linking. If your website's product pages are generated dynamically, pulling from a custom database to which you can add new fields easily, it can be easy to implement such links. We have tools that can allow us to generate a list of URL's to make the process easy and perhaps even automatic on your end, depending on how your database is organized. Get in touch and we can find a solution that makes it easy for you!
You can also carry this process out partially, focusing on key teas. Our data shows a clear pattern of people being most likely to both write and read reviews of best-selling teas, whereas for less popular teas, the chance of someone reading and writing reviews is lower. For example, for
Twinings
, a mainstream commercial brand, the top 4 teas have over 40% of the total reviews and generate over 60% of the pageviews, and the top 10 cover 58% of the total reviews and over 77% of pageviews. For Teavana, a company with a very large catalogue, the top 10 teas still cover over 24% of the total reviews and 54% of pageviews.
Linking page-by-page for your best-selling teas and then using generic links for others is a good compromise to get some of the extra benefits of page-to-page linking while minimizing the effort it takes for you to do it.
Use social networking icons.

You can include RateTea alongside icons for Facebook, Twitter, and other social networks.
Social networking icons are an easy and effective way to link to our site. People who know or use RateTea will recognize RateTea's icon and branding, and it will remind them that your brand is listed on our site, thus increasing the likelihood that they will read or share reviews of your brand on our site. People who are not familiar with RateTea may click the icon out of curiosity and end up doing the same. Our data shows that a significant number of users who have not visited RateTea previously, still click these icons.
The main advantage of using the RateTea social networking icons are that it is easy and concise, fitting seamlessly into your site's design. It also steers traffic away from larger, mainstream social sites less likely to benefit your company, for reasons we explained above. When using these icons to link to us, we recommend linking to your brand's page.
Visit our page on
RateTea Social Networking Icons
for some icons or graphics you can include on your site or use to develop your own graphics.
Quote excerpts or highlights from reviews, linking to full reviews.
Highlighting positive reviews on our site is one of the best ways to link to our site, as it sends your users directly to the most favorable testimonials about your teas. You can include a brief quote, such as a clause or short sentence from a review, and then link to the full review on our site. You can link either to the page for the tea (a good idea if there are multiple favorable reviews; also, this is more likely to encourage people to review the tea) or you can link directly to the specific page for an individual review (possibly a better choice if there are multiple reviews and not all are positive).
Watch the reviews of your company's teas on your site, and when someone writes something favorable about them, highlight them. We have an RSS feed for each brand, so you can monitor the feed for your brand if you want to keep updated about what people are writing about your teas.
Other parts of our site to link to
The ways discussed above will be the best and most natural ways for most tea companies to link to us, but there are other ways you can link to our site as well, especially if you want to recognize or highlight some aspect of our site that you particularly like.
Our site functions in large part as an encyclopedia-like reference about tea. If you find an article or section of the site that you think is particularly interesting or useful, you may find it valuable or relevant to link to, especially in the context of articles or informational content. Most of the articles or reference-like content on our site can be found through the three links at the top,
Styles
, for articles on specific types of tea,
Regions
, for material on tea-producing regions, and
Articles
for articles on other topics.
Things to avoid or exercise caution with
Do not link generically to our homepage from your company website.
Linking to our homepage can make sense for bloggers or journalists writing generally about our site, but if you do so from a tea company website, it reduces the likelihood that people will review your teas and read reviews of your teas, relative to if you link to your brand pages and/or pages for specific teas.
Do not offer incentives for favorable reviews.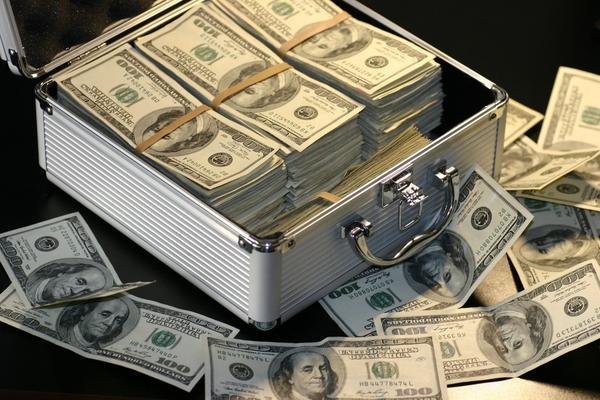 It is acceptable within our terms of use, and likely beneficial, for you to offer free samples to people in exchange for honest reviews. You can offer these both to existing customers, or RateTea reviewers or staff. However, you are expressly prohibited from offering incentives or payments to people in exchange for positive reviews.
If you wish to avoid unfavorable reviews, you can check reviewers' profiles and see what kinds of teas they like, and you can also ask them about which teas from your catalogue they would be most likely to enjoy, and then refrain from sending them samples of tea they are not likely to enjoy.
Also, remind yourself that negative reviews do not necessarily hurt your company; they can help potential customers to avoid ordering teas they wouldn't like, instead finding the ones they prefer. They also can provide useful feedback for ways you might change or improve your company's offerings. The most successful companies are the ones that are able to benefit even from critical reviews.
Respect copyright.
Our reviews are copyrighted material. Using a small quote or brief excerpt, such as a sentence or part of a sentence, is encouraged by us and also and protected under fair use law. However, republishing a whole review without permission, in most cases is a violation of copyright law. If you include quotes or excerpts from a review, make sure to link to the original review or the page for the tea where the review is displayed. Copying a review without linking makes it more likely that we will pursue legal action for copyright infringement because it is "taking without giving", and we want to build a mutually beneficial and respectful relationship with tea companies.
Do not link to RateTea from a "links" or "resources" page.
In the early days of the internet, it was common for people to have "links" or "resources" pages which would list links to other websites. Over time, these pages have fallen out of popularity and use, as it leads to better user-experience to instead link to other websites when relevant in the context or design of a site's main pages. Some people still retain these "links" pages, and they are often used in a "we link to you if you link to us" link schemes, i.e. Google explicitly mentions "partner pages exclusively for the sake of cross-linking" in their guidelines on
link schemes
; these can harm your site's reputation and search rankings.
If we find out that a website is using link schemes or other black-hat SEO practices, we will remove all links to it from our site and we may delete it and all its teas from our site.
Instead of using such a "links" page, include the link naturally in your site, in the ways described above or some other way that you find natural and relevant to your users.
Thank you!
Thank you for reading the whole way to the end! We hope you have found this guide useful, and we thank you in advance if you do decide to link to us!