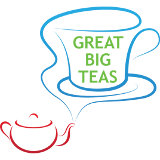 Most Reviewed By:
No one has reviewed any teas from this company yet!
Search Great Big Teas's teas:
Great Big Teas

Web: www.greatbigteas.com
Last Updated: Nov. 12, 2014
Great Big Teas is a tea company founded and owned by Lisa Davidsohn, and based in Lords Valley, PA. Great Big Teas primarily sells loose-tea directly to people, through hosting tea tastings in people's homes. The company's teas are also available for sale on their website.
Teas From Great Big Teas
The following is a complete listing of the 1 teas from Great Big Teas in our database.
If you want to review a tea not listed, you can add a new tea.
You can also add a new tea. Please search or browse this company's teas first, to avoid adding duplicates.