Jasmine Pearls
Updated: Aug. 27, 2013
About Jasmine Pearls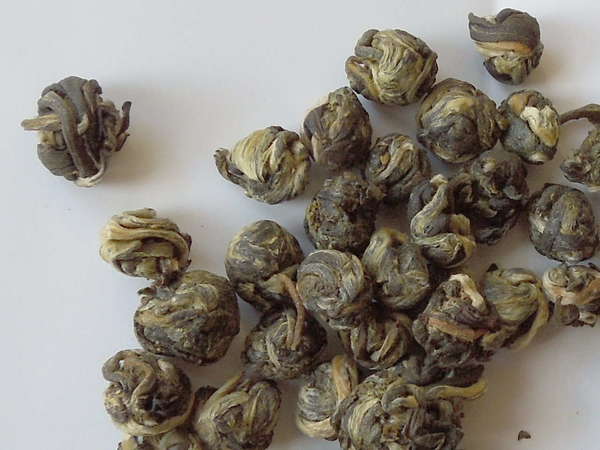 A typical example of jasmine pearls, showing a more silvery color than most jasmine green teas.
Jasmine pearls
, often called
jasmine dragon pearls
, is a type of
jasmine tea
, tea scented with jasmine blossoms, in which the leaves are tightly wound into small, round "pearls". Jasmine pearls tend to be silvery in color, which is a function of the leaves they are made out of and not anything having to do with the way they are packaged. When brewed, the jasmine pearls unfurl.
The tea used as a base for jasmine pearls tends to be more delicate and higher quality than the base tea for regular jasmine tea. This is due to the fact that the extra work involved in creating the pearls would make it uneconomical to use lower-grade tea.
Like regular jasmine tea, jasmine pearls can be made out of different types of tea, but they tend to be made out of white teas more often than the plain jasmine teas.
Silver needle white tea
is a favorite base tea for jasmine pearls.
Although Jasmine tea could be viewed as a
blooming tea
because each individual pearl unfurls into a flower-like shape, we classify it as a loose tea because typically, a spoonful of pearls is required to brew a single cup. We reserve the categorization of blooming tea for large blooms that brew one or more cups of tea with a single piece.
Best Jasmine Pearls
The notion of the "best" Jasmine Pearls is subjective, because different people have different tastes. We present the most often-rated and highest-rated teas in this category, and allow you to draw your own conclusions.
Most Often-Rated Teas
Top-Rated Teas