Jasmine Pearls
Last Updated: Aug. 27, 2013
↑About Jasmine Pearls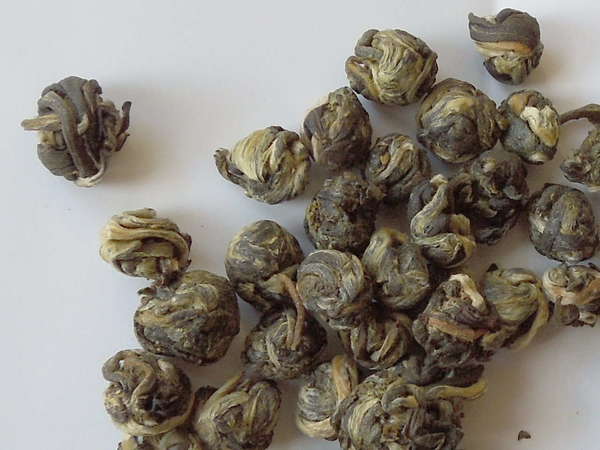 A typical example of jasmine pearls, showing a more silvery color than most jasmine green teas.
Jasmine pearls
, often called
jasmine dragon pearls
, is a type of
jasmine tea
, tea scented with jasmine blossoms, in which the leaves are tightly wound into small, round "pearls". Jasmine pearls tend to be silvery in color, which is a function of the leaves they are made out of and not anything having to do with the way they are packaged. When brewed, the jasmine pearls unfurl.
The tea used as a base for jasmine pearls tends to be more delicate and higher quality than the base tea for regular jasmine tea. This is due to the fact that the extra work involved in creating the pearls would make it uneconomical to use lower-grade tea.
Like regular jasmine tea, jasmine pearls can be made out of different types of tea, but they tend to be made out of white teas more often than the plain jasmine teas.
Silver needle white tea
is a favorite base tea for jasmine pearls.
Although Jasmine tea could be viewed as a
blooming tea
because each individual pearl unfurls into a flower-like shape, we classify it as a loose tea because typically, a spoonful of pearls is required to brew a single cup. We reserve the categorization of blooming tea for large blooms that brew one or more cups of tea with a single piece.
↑Recent Jasmine Pearls Reviews — RSS
95 / 100

This is remarkable for a bagged tea. I tend to expect a mediocre tea in certain kinds of bagged tea. As a general rule, I think the delicacy flavors of jasmine green tea is a challenge to get right if it isn't loose leaf or tea pearls, but this is an impressive cup. I managed to get two cups out of it. while the seco...
Read Full Review
85 / 100

This tea has a beautiful jasmine smell and taste. You have to really love jasmine to like this tea; as the other reviewer mentioned, the jasmine aroma and taste is very overpowering, even with minimal steep time. I really enjoy this tea. It reminds me a great deal of Republic of Tea's Twilight Rose, which is a chamom...
Read Full Review
86 / 100

I ordered this tea loose and brewed it exactly to Harney & Sons directions (1 tsp per cup at 175F for 3 minutes). The aroma is sublime. The color is very light golden straw. The flavor is soft, fragrant, not bitter at all. Compared to Harney and Son's "Jasmine" and "Organic Jasmine" the Dragon Pearl Jasmine is more sub...
Read Full Review
82 / 100

Lovely jasmine pearl tea. The hand rolled pearls open gently as it brews. The taste is delicate—not as grassy or as floral as a few of the other jasmine greens out there. Nice tea that is smooth and easily drinkable.
Read Full Review
77 / 100

An amazing tea, somewhat soapy(probably due to steeping error), but the taste is excellent, and it smells amazing, but that is typical of a jasmine tea. This tea is very expensive, and I didn't see much improvement over other jasmine pearls.
Read Full Review
↑Top Reviewers
Review 3 teas to get on this list!
Advertisement
↑Most-Rated Jasmine Pearls

55
8 Ratings

66
6 Ratings

82
3 Ratings
↑Top-Rated Jasmine Pearls

82
3 Ratings

66
6 Ratings

55
8 Ratings