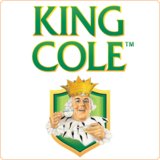 (506) 432-2300
Most Reviewed By:

King Cole


Web: www.kingcole.ca
Last Updated: Feb. 27, 2012
King Cole is a Canadian brand of tea owned by Barbour's, which is headquartered in Sussex, NB. The tea is named after Old King Cole, a king of unknown identity from the English nursery rhyme. Barbour's also owns Morse's Tea, the oldest brand of tea in Nova Scotia.

King Cole mostly sells teas in teabags, including black tea, decaf tea, green tea, a line of decaffeinated flavored green tea, and a recent addition, a few organic teas. In addition, King Cole sells a single blend of loose tea. Barbour's website has links to pictures of historic packaging of King Cole tea, going back to the 1930's and 40's, and links to www.eastcoastcatalogue.com where you can order the tea, although the teas are also distributed to stores in Canada.
Most Often-Rated Teas
Top-Rated Teas
We need at least 3 ratings for a tea to calculate a percentile ranking. You can help us out by rating more teas from this brand.
Teas From King Cole
The following is a selection of the 16 teas from King Cole in our database.
You can also add a new tea. Please search or browse this company's teas first, to avoid adding duplicates.