Fruit Green Tea
Last Updated: Mar. 13, 2014
↑About Fruit Green Tea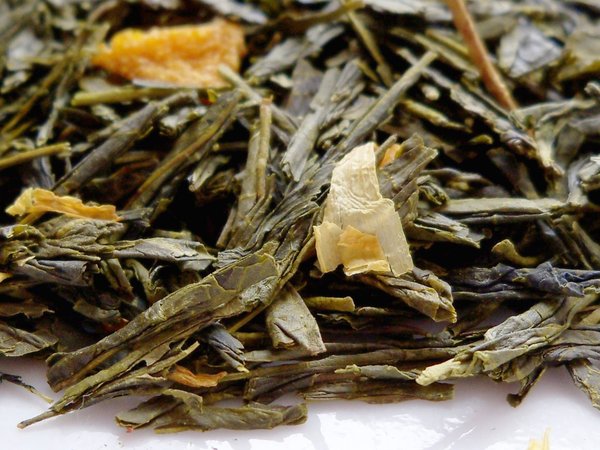 This green tea is flavored with orange and lemon. Photo © A Girl With Tea,
CC BY 2.0
.
Green tea
is often flavored with
fruit
.
The flavoring can be added in the form of extracts added to the tea leaves, dried fruit mixed in with the tea leaves, or fresh fruit juice added to the brewed tea, such as with lemon or mixing fruit juice with iced tea. In some cases, herbs with a fruity aroma or tangy flavor can also be blended with the tea to impart fruity characteristics.
The fruits used to flavor green tea are almost endless. Lemon is one of the most common, and other citrus fruits are frequently used as well.
↑Recent Fruit Green Tea Reviews — RSS
64 / 100

Here was the last in a series of Revolution teas I've finished from a variety pack, and it was slightly above average, overall. The aromas and flavors are quite similar, across-the-board, from dry bag to cup to wet bag. The aroma is a good bit weaker than the taste, however.

The green teas used seem to be good qua...
Read Full Review
65 / 100

Colombian green tea with pear guava and soursop, and apparently some added flavor. Very floral, sweet, and fruity - almost candy-like. This would be nice in the summertime, but I probably won't get it again because of the price.
Read Full Review
75 / 100

Super-fruity wit a hint of acid - very nice over ice and OK hot, too. (Add sweetener if you wish but I don;t think it needs it - so go easy on the honey/sugar).

A nice change of pace it winter for hot or summer for iced fruity-green bagged tea. Inexpensive and convenient.
Read Full Review
75 / 100
Very nicely scented and flavorful with fruity sweetness and floral notes. A little artificial flavor comes thru as well. A nice summer tea.
Read Full Review
72 / 100
Super fruity and can be overly sweet - even without sweetener so go easy on any honey or sugar you might normally add. Very, very fruity. A slight tart finish. Pleasant enough hot but for me better over ice. Inexpensive bagged tea.
Read Full Review
↑Top Reviewers
Review 5 teas to get on this list!
Advertisement
↑Most-Rated Fruit Green Tea

94
4 Ratings
↑Top-Rated Fruit Green Tea

94
4 Ratings

73
3 Ratings

67
3 Ratings

50
3 Ratings
↑Varieties, Kinds, or Types of Fruit Green Tea