Fruit Green Tea
Last Updated: Mar. 13, 2014
↑About Fruit Green Tea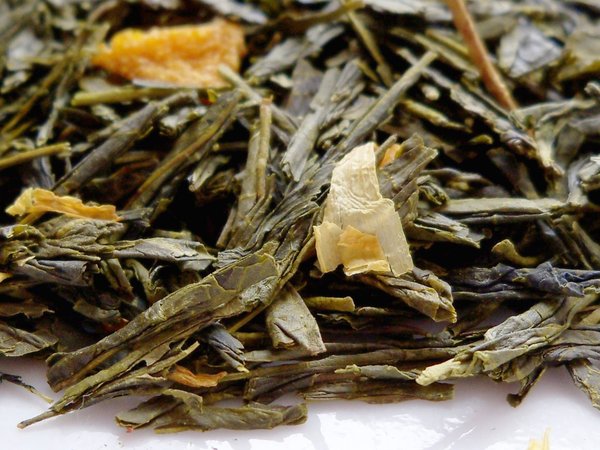 This green tea is flavored with orange and lemon. Photo © A Girl With Tea,
CC BY 2.0
.
Green tea
is often flavored with
fruit
.
The flavoring can be added in the form of extracts added to the tea leaves, dried fruit mixed in with the tea leaves, or fresh fruit juice added to the brewed tea, such as with lemon or mixing fruit juice with iced tea. In some cases, herbs with a fruity aroma or tangy flavor can also be blended with the tea to impart fruity characteristics.
The fruits used to flavor green tea are almost endless. Lemon is one of the most common, and other citrus fruits are frequently used as well.
↑Recent Fruit Green Tea Reviews — RSS
75 / 100
Very nicely scented and flavorful with fruity sweetness and floral notes. A little artificial flavor comes thru as well. A nice summer tea.
Read Full Review
72 / 100
Super fruity and can be overly sweet - even without sweetener so go easy on any honey or sugar you might normally add. Very, very fruity. A slight tart finish. Pleasant enough hot but for me better over ice. Inexpensive bagged tea.
Read Full Review
70 / 100

So there I was in the tea section of a grocery store in western Colorado, realizing I had forgotten to bring enough green tea along on vacation, looking for some. The bright red, cylindrical tin with the black lid and white star caught my attention, as did the unusual brand name and flavor: pineapple, one I enjoy. T...
Read Full Review
69 / 100

This is a very well-balanced rendition of berry-flavored green tea, an enjoyable sip or chug. As I've found with many bagged green teas, the dry-bag aroma was weak, but in-cup, the smell became more full and representative of the taste, while the deeply breathed wet-bag aroma was richest of all sensations (including ...
Read Full Review
62 / 100

Mistakenly and distracted by engaging conversation, I grabbed a couple of bags at a conference, thinking this was straight green Bigelow tea as typically served, without looking carefully at the little red strip declaring, "with pomegranate". I still didn't notice upon ripping open the wrapper, dropping bag into cup a...
Read Full Review
↑Top Reviewers
Review 5 teas to get on this list!
Advertisement
↑Most-Rated Fruit Green Tea

99
4 Ratings

83
3 Ratings

22
3 Ratings
↑Top-Rated Fruit Green Tea

99
4 Ratings

89
3 Ratings

85
3 Ratings

83
3 Ratings
↑Varieties, Kinds, or Types of Fruit Green Tea