Flavored Green Tea
Last Updated: Feb. 16, 2016
↑About Flavored Green Tea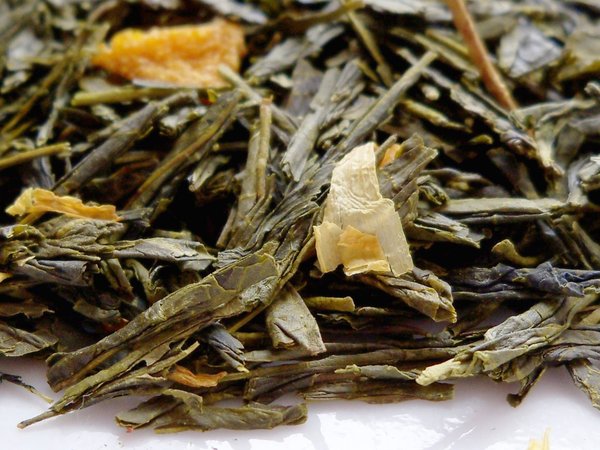 Photo of Leaf of Citron Green from Adagio Teas by A Girl With Tea, © A Girl With Tea,
CC BY 2.0
Flavored green tea
is
green tea
that has been flavored with various ingredients. On RateTea, we list flavored green teas separately from
pure green teas
, which are listed in their own category.
Because of the distinct qualities of green tea, green teas are typically mixed with different flavorings from those used in black tea. Some flavorings, such as
lemon
or
mint
, are common with both types of tea. More recently,
green Earl Grey
has also become more popular.
Common traditional flavorings for green tea include fruit, toasted rice (
genmaicha
), flower petals (rose or
jasmine
), or
ginseng
.
High-quality flavored green teas typically include flavorings that are well-chosen to blend or harmonize with the characteristics of a carefully chosen base tea. Both Chinese and Japanese-style teas can be used as a base. Because of the tremendous diversity in the different styles of green tea, different teas blend best with different flavorings and ingredients.
When buying loose-leaf flavored green tea, we recommend looking at the different offerings that a company has, and seeing if they all use the same base tea. Companies with lower-quality teas will often use a single base tea and flavor it with different extracts. Companies can also use flavorings to mask lower-quality tea and thus generate a higher profit margin. We recommend seeking out blends where the flavorings are balanced with, rather than overpowering, the base tea.
↑Recent Flavored Green Tea Reviews — RSS
80 / 100

This is a pretty decent tea. It is very smooth and easy to drink because it has little bitterness and astringency. The mint and green tea go really well together. Normally I'm not so crazy about mint teas but this one mixed with green tea is really good. I get that nice mint flavor without it being too overwhelming. Th...
Read Full Review
66 / 100

Here's the next entry in the dossier of Allegro teas obtained at one of our Colorado vacation stops. This is one of the few that I would consider ordering on its own merit...that is, if I weren't already dropping bags of inexpensive peppermint tea in with good green tea on occasion, to accomplish much the same result....
Read Full Review
50 / 100

I'm not really sold on this one. T2 markets it as "holiday in a bag" and, to a point, they're right. It definitely reminds me of a beach, but it's the wrong part of the beach. Maybe it's just me, but all I can smell from this tea is sunscreen. The flavor is there, it's a mild coconut/pineapple blend, but it seems off t...
Read Full Review
70 / 100

So there I was in the tea section of a grocery store in western Colorado, realizing I had forgotten to bring enough green tea along on vacation, looking for some. The bright red, cylindrical tin with the black lid and white star caught my attention, as did the unusual brand name and flavor: pineapple, one I enjoy. T...
Read Full Review
90 / 100

I wasn't sure whether I would like this one or not, but I found it delightfully refreshing. The ginseng gives the tea a bright yet herbaceous flavor. The light feeling that the tea imparts is quite nice. I'm glad I tried this one.

I didn't add any creamer or sweetener to this tea.
Read Full Review
↑Top Reviewers
Review 20 teas to get on this list!
Advertisement
↑Most-Rated Flavored Green Tea

19
12 Ratings

8
8 Ratings

39
5 Ratings

77
4 Ratings

25
4 Ratings
↑Top-Rated Flavored Green Tea

99
4 Ratings

77
4 Ratings

73
3 Ratings

55
3 Ratings
↑Varieties, Kinds, or Types of Flavored Green Tea