Flavored Green Tea
Last Updated: Feb. 16, 2016
↑About Flavored Green Tea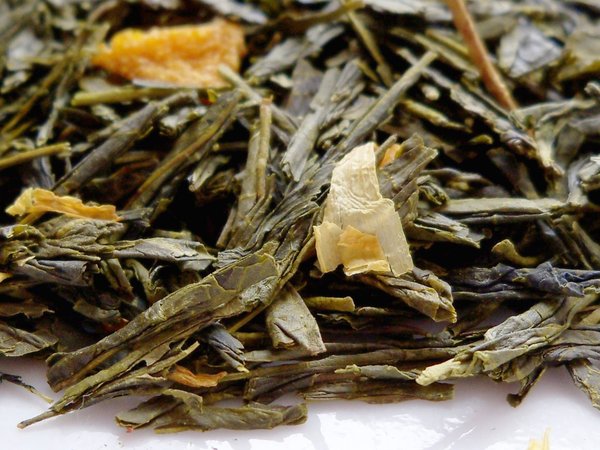 Photo of Leaf of Citron Green from Adagio Teas by A Girl With Tea, © A Girl With Tea,
CC BY 2.0
Flavored green tea
is
green tea
that has been flavored with various ingredients. On RateTea, we list flavored green teas separately from
pure green teas
, which are listed in their own category.
Because of the distinct qualities of green tea, green teas are typically mixed with different flavorings from those used in black tea. Some flavorings, such as
lemon
or
mint
, are common with both types of tea. More recently,
green Earl Grey
has also become more popular.
Common traditional flavorings for green tea include fruit, toasted rice (
genmaicha
), flower petals (rose or
jasmine
), or
ginseng
.
High-quality flavored green teas typically include flavorings that are well-chosen to blend or harmonize with the characteristics of a carefully chosen base tea. Both Chinese and Japanese-style teas can be used as a base. Because of the tremendous diversity in the different styles of green tea, different teas blend best with different flavorings and ingredients.
When buying loose-leaf flavored green tea, we recommend looking at the different offerings that a company has, and seeing if they all use the same base tea. Companies with lower-quality teas will often use a single base tea and flavor it with different extracts. Companies can also use flavorings to mask lower-quality tea and thus generate a higher profit margin. We recommend seeking out blends where the flavorings are balanced with, rather than overpowering, the base tea.
↑Recent Flavored Green Tea Reviews — RSS
55 / 100

Chinese sencha tea made with ginseng, ginger, and pineapple. The description makes it seem exotic and potent, but it is fairly mild and not really very exciting.
Read Full Review
78 / 100

I should really stop posting first impressions. I often end up rewriting the whole review. This tea took some time to get used to. I disliked the toasted rice at first and wished it was just bancha and matcha, but then I realized that it's the combination of everything that makes this tea work: the bancha provides a ni...
Read Full Review
88 / 100

Straight up, this is a blatant, unapologetic and remarkably close approximation of Celestial Seasonings' Candy Cane Lane (one of my very favorite teas), right down to the decaf green tea, the rest of the ingredients list, and the square stringless flat bags housed in a gummed wax-paper pouch, within a similarly sized b...
Read Full Review
65 / 100

It is sencha with toasted brown rice - I wonder who thought that up? This provides a little heft and cracker-like flavor to this green tea. I'm rating it in 2018, but I liked it a little more in some prior years.
Read Full Review
65 / 100

The picture is a little deceptive - it appears to be packed with dried blueberries, but so far I haven't seen any. It is a bland green tea with blueberry flavoring, which makes it taste like chewing gum. This would probably be OK in the summer, maybe on ice.
Read Full Review
↑Top Reviewers
Review 15 teas to get on this list!
Advertisement
↑Most-Rated Flavored Green Tea

26
12 Ratings

19
8 Ratings

59
5 Ratings

9
4 Ratings

60
4 Ratings
↑Top-Rated Flavored Green Tea

95
3 Ratings

89
3 Ratings

81
3 Ratings
76
3 Ratings

65
3 Ratings
↑Varieties, Kinds, or Types of Flavored Green Tea