Flavored Green Tea
Last Updated: Feb. 16, 2016
↑About Flavored Green Tea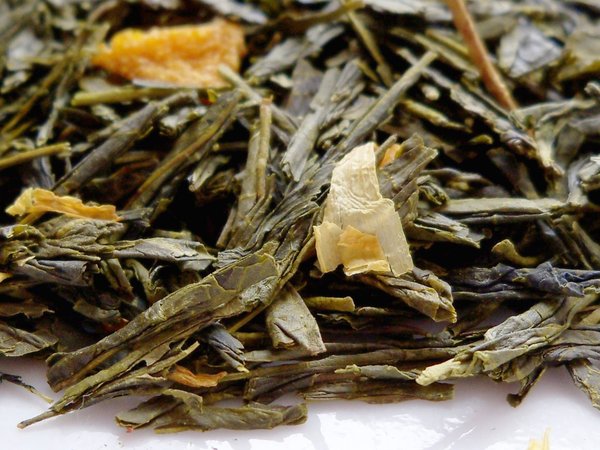 Photo of Leaf of Citron Green from Adagio Teas by A Girl With Tea, © A Girl With Tea,
CC BY 2.0
Flavored green tea
is
green tea
that has been flavored with various ingredients. On RateTea, we list flavored green teas separately from
pure green teas
, which are listed in their own category.
Because of the distinct qualities of green tea, green teas are typically mixed with different flavorings from those used in black tea. Some flavorings, such as
lemon
or
mint
, are common with both types of tea. More recently,
green Earl Grey
has also become more popular.
Common traditional flavorings for green tea include fruit, toasted rice (
genmaicha
), flower petals (rose or
jasmine
), or
ginseng
.
High-quality flavored green teas typically include flavorings that are well-chosen to blend or harmonize with the characteristics of a carefully chosen base tea. Both Chinese and Japanese-style teas can be used as a base. Because of the tremendous diversity in the different styles of green tea, different teas blend best with different flavorings and ingredients.
When buying loose-leaf flavored green tea, we recommend looking at the different offerings that a company has, and seeing if they all use the same base tea. Companies with lower-quality teas will often use a single base tea and flavor it with different extracts. Companies can also use flavorings to mask lower-quality tea and thus generate a higher profit margin. We recommend seeking out blends where the flavorings are balanced with, rather than overpowering, the base tea.
↑Recent Flavored Green Tea Reviews — RSS
75 / 100
Half-litre pot at home, made from a mixture of Sencha leaves, pieces of dried rose hip shells, buckthorn berries and heather blossom. Pours nearly clear lightish straw (against white china) with no sediment. Clear aroma of rose hip, with notes of Sencha leaves and touches of buckthorn. Mild but distinct flavour of Senc...
Read Full Review
65 / 100
Cup at home, made from leaves of green tea and what looks like tiny pieces of liquorice root and caramelised apple, cinnamon - the loose blend emits a sweet scent. Pours slightly hazy olive green (against white china) with a small layer of sediment (I used a sieve, not a filter). Clear aroma of green tea leaves, with n...
Read Full Review
55 / 100

I really wasn't impressed with this. I was hopeful because the reviews I found elsewhere were good. But, this tea lacks taste and body. There's nothing to it. I even contacted Maeda-en because I thought there might be an issue with the product. It's not what I've come to expect from their brand. Their teas are usually ...
Read Full Review
67 / 100

Half-litre pot at home, made from leaves of green tea and the blossom of rose, sunflower, and cornflower. Pours clear straw (against white china) with no sediment. Clear aroma of Sencha leaves, with very mild touches of sunflower and rose blossom. Ditto flavour, with hints of cornflower. Slightly astringent palate with...
Read Full Review
78 / 100

I really like this genmaicha. Aside from tea in Asian restaurants, this is the only genmaicha that I've ever tasted. The kind that I have (I'm not sure if they've changed the recipe or not) has sorghum in addition to rice. It has a great, nutty, roasted flavor. There isn't much caffeine to it. I'm amazed that this tea ...
Read Full Review
↑Top Reviewers
Review 22 teas to get on this list!
Advertisement
↑Most-Rated Flavored Green Tea

17
12 Ratings

16
8 Ratings

68
5 Ratings

80
4 Ratings
↑Top-Rated Flavored Green Tea

99
3 Ratings

94
4 Ratings

83
3 Ratings

80
4 Ratings
↑Varieties, Kinds, or Types of Flavored Green Tea