Flavored Green Tea
Last Updated: Feb. 16, 2016
↑About Flavored Green Tea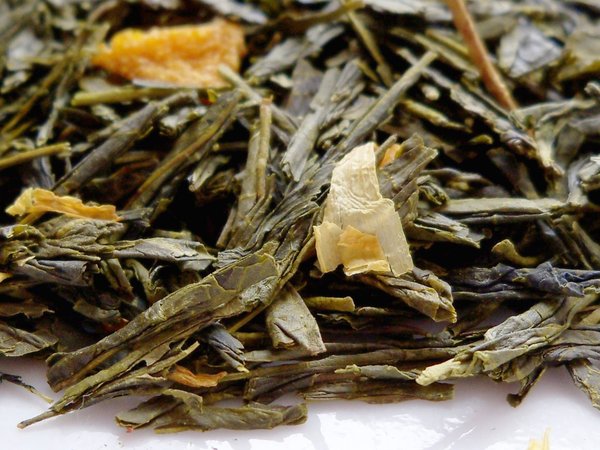 Photo of Leaf of Citron Green from Adagio Teas by A Girl With Tea, © A Girl With Tea,
CC BY 2.0
Flavored green tea
is
green tea
that has been flavored with various ingredients. On RateTea, we list flavored green teas separately from
pure green teas
, which are listed in their own category.
Because of the distinct qualities of green tea, green teas are typically mixed with different flavorings from those used in black tea. Some flavorings, such as
lemon
or
mint
, are common with both types of tea. More recently,
green Earl Grey
has also become more popular.
Common traditional flavorings for green tea include fruit, toasted rice (
genmaicha
), flower petals (rose or
jasmine
), or
ginseng
.
High-quality flavored green teas typically include flavorings that are well-chosen to blend or harmonize with the characteristics of a carefully chosen base tea. Both Chinese and Japanese-style teas can be used as a base. Because of the tremendous diversity in the different styles of green tea, different teas blend best with different flavorings and ingredients.
When buying loose-leaf flavored green tea, we recommend looking at the different offerings that a company has, and seeing if they all use the same base tea. Companies with lower-quality teas will often use a single base tea and flavor it with different extracts. Companies can also use flavorings to mask lower-quality tea and thus generate a higher profit margin. We recommend seeking out blends where the flavorings are balanced with, rather than overpowering, the base tea.
↑Recent Flavored Green Tea Reviews — RSS
80 / 100

The citrus and peppermint work surprisingly well to create a bright cup. The orange and lemon blend in a way that creates a broad citrus experience without either one dominating. The second cup I made was basically identical to the first, which is impressive. All in all, this is a decent tea!
Read Full Review
86 / 100

Mmmmmmm...delicious from the first dry-bag sniff through the cup and even in the aftertaste! Finally again, for only the second time in my experience: a coconut-flavored green tea that really is coconut-dominant, and since I enjoy coconut a lot, that's a good thing.

The best part is that the coconut flavor asser...
Read Full Review
65 / 100

Colombian green tea with pear guava and soursop, and apparently some added flavor. Very floral, sweet, and fruity - almost candy-like. This would be nice in the summertime, but I probably won't get it again because of the price.
Read Full Review
80 / 100
Very good. The gunpowder tea is a touch smoky and that helps it mix well with the mint.
Read Full Review
40 / 100

The green tea smells stronger than it tastes. There's nothing offensive about it, but neither is it satisfying. I rather suspect that Bigelow's green teas are blended for those that drink green tea for purported health benefits rather than the flavor. It's mild and not bitter, but it lacks any brightness or vegetal com...
Read Full Review
↑Top Reviewers
Review 21 teas to get on this list!
Advertisement
↑Most-Rated Flavored Green Tea

17
12 Ratings

16
8 Ratings

68
5 Ratings

17
4 Ratings
↑Top-Rated Flavored Green Tea

99
3 Ratings

94
4 Ratings

83
3 Ratings

80
4 Ratings
↑Varieties, Kinds, or Types of Flavored Green Tea