Flavored Green Tea
Last Updated: Feb. 16, 2016
↑About Flavored Green Tea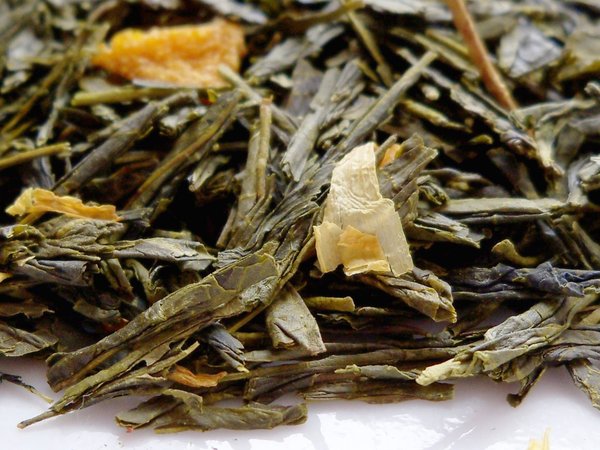 Photo of Leaf of Citron Green from Adagio Teas by A Girl With Tea, © A Girl With Tea,
CC BY 2.0
Flavored green tea
is
green tea
that has been flavored with various ingredients. On RateTea, we list flavored green teas separately from
pure green teas
, which are listed in their own category.
Because of the distinct qualities of green tea, green teas are typically mixed with different flavorings from those used in black tea. Some flavorings, such as
lemon
or
mint
, are common with both types of tea. More recently,
green Earl Grey
has also become more popular.
Common traditional flavorings for green tea include fruit, toasted rice (
genmaicha
), flower petals (rose or
jasmine
), or
ginseng
.
High-quality flavored green teas typically include flavorings that are well-chosen to blend or harmonize with the characteristics of a carefully chosen base tea. Both Chinese and Japanese-style teas can be used as a base. Because of the tremendous diversity in the different styles of green tea, different teas blend best with different flavorings and ingredients.
When buying loose-leaf flavored green tea, we recommend looking at the different offerings that a company has, and seeing if they all use the same base tea. Companies with lower-quality teas will often use a single base tea and flavor it with different extracts. Companies can also use flavorings to mask lower-quality tea and thus generate a higher profit margin. We recommend seeking out blends where the flavorings are balanced with, rather than overpowering, the base tea.
↑Recent Flavored Green Tea Reviews — RSS
67 / 100

First thing I noticed was the volume, so let's offer up a round of applause for Salada, for keeping 20 teabags per box. If inflation has to happen, I'd rather have it through higher prices for the same items than the more deceptive, underhanded practice of "shrinkflation", seen in other teas. Each bag is normal-sized...
Read Full Review
65 / 100
A mild, fruity green tea. The pineapple comes thru clearly, but I was not picking up much maracuja. Nice aroma of citrus and calendula flowers. On screen this seems like it would be a good iced tea, but my guess is it is not robust enough. This could use a little more uumph, but it is a perfectly pleasant tea.
Read Full Review
90 / 100
I am very pleased with this ginger-citrus flavored Sencha by Arbor Made with all organic and natural ingredients (tea, orange peel, ginger, calendula petals, natural flavors), it has a pleasant flavor and a nice citrus aroma. The ginger dominates the taste, but it is well complimented by the flavor of fresh oranges, ...
Read Full Review
80 / 100
The flavor of this is pleasant and mellow, with raspberry coming through clearly and blending nicely with the base tea. It does not taste fake or overly aggressive. The aroma is quite enjoyable, with noticeable raspberry and no off notes. Very nice.
Read Full Review
66 / 100

As with the remainder of this brand of US Foods teas, it's a food-service product not sold directly to the public, but still available in some hotels and motels. I got this at a Wingate by Wyndham motel in Frisco, TX, drinking some there and saving a couple others to try later.

The bag came in a sealed foil-paper...
Read Full Review
↑Top Reviewers
Review 24 teas to get on this list!
Advertisement
↑Most-Rated Flavored Green Tea

12
12 Ratings

16
8 Ratings

18
6 Ratings

20
4 Ratings
↑Top-Rated Flavored Green Tea

94
4 Ratings

83
3 Ratings

80
4 Ratings
↑Varieties, Kinds, or Types of Flavored Green Tea