Flavored Green Tea
Last Updated: Feb. 16, 2016
↑About Flavored Green Tea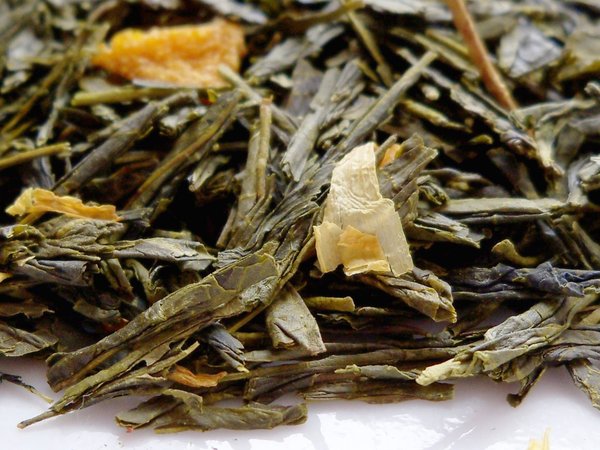 Photo of Leaf of Citron Green from Adagio Teas by A Girl With Tea, © A Girl With Tea,
CC BY 2.0
Flavored green tea
is
green tea
that has been flavored with various ingredients. On RateTea, we list flavored green teas separately from
pure green teas
, which are listed in their own category.
Because of the distinct qualities of green tea, green teas are typically mixed with different flavorings from those used in black tea. Some flavorings, such as
lemon
or
mint
, are common with both types of tea. More recently,
green Earl Grey
has also become more popular.
Common traditional flavorings for green tea include fruit, toasted rice (
genmaicha
), flower petals (rose or
jasmine
), or
ginseng
.
High-quality flavored green teas typically include flavorings that are well-chosen to blend or harmonize with the characteristics of a carefully chosen base tea. Both Chinese and Japanese-style teas can be used as a base. Because of the tremendous diversity in the different styles of green tea, different teas blend best with different flavorings and ingredients.
When buying loose-leaf flavored green tea, we recommend looking at the different offerings that a company has, and seeing if they all use the same base tea. Companies with lower-quality teas will often use a single base tea and flavor it with different extracts. Companies can also use flavorings to mask lower-quality tea and thus generate a higher profit margin. We recommend seeking out blends where the flavorings are balanced with, rather than overpowering, the base tea.
↑Recent Flavored Green Tea Reviews — RSS
38 / 100

I'm honestly not sure what the point of this tea is. This is obviously Nightly Calm herbal tea blended with decaf green tea and it's a nice idea, but Twinings' decaf green is nearly flavorless. The blend tastes just like the Nightly Calm, but still may contain some small amount of caffeine ("less than 0.2%") rather tha...
Read Full Review
75 / 100
Very nicely scented and flavorful with fruity sweetness and floral notes. A little artificial flavor comes thru as well. A nice summer tea.
Read Full Review
72 / 100
Super fruity and can be overly sweet - even without sweetener so go easy on any honey or sugar you might normally add. Very, very fruity. A slight tart finish. Pleasant enough hot but for me better over ice. Inexpensive bagged tea.
Read Full Review
30 / 100

After trying the green tea version of Constant Comment and liking it, I'm really disappointed in the green Earl Grey. The bergamot flavoring is much lighter than in Bigelow's black tea Earl Grey, presumably to let the flavor of the green tea through, such as it is. The very light flavor of the base tea coupled with les...
Read Full Review
60 / 100

As with the black tea version of Constant Comment, the dominant flavors are clove and orange peel. I'm tasting them both side-by-side at the moment and since Bigelow's green and black teas are both mild, the differences are subtle. The flavor of the green tea has a nice brightness and a faint hint of the grassy bittern...
Read Full Review
↑Top Reviewers
Review 20 teas to get on this list!
Advertisement
↑Most-Rated Flavored Green Tea

48
12 Ratings

48
8 Ratings

91
5 Ratings

99
4 Ratings
↑Top-Rated Flavored Green Tea

99
4 Ratings

93
3 Ratings

91
5 Ratings

90
3 Ratings

89
3 Ratings
↑Varieties, Kinds, or Types of Flavored Green Tea