Flavored Green Tea
Last Updated: Feb. 16, 2016
↑About Flavored Green Tea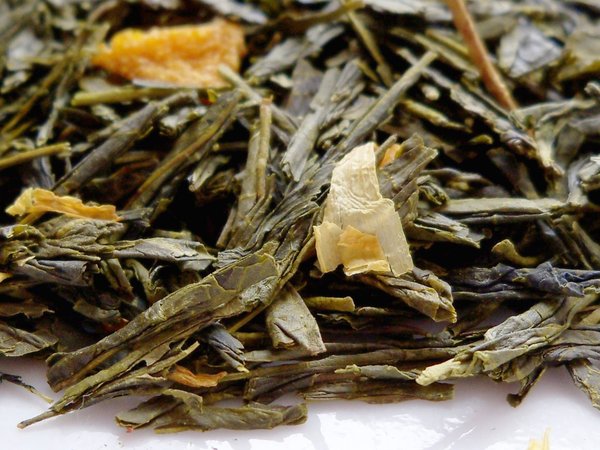 Photo of Leaf of Citron Green from Adagio Teas by A Girl With Tea, © A Girl With Tea,
CC BY 2.0
Flavored green tea
is
green tea
that has been flavored with various ingredients. On RateTea, we list flavored green teas separately from
pure green teas
, which are listed in their own category.
Because of the distinct qualities of green tea, green teas are typically mixed with different flavorings from those used in black tea. Some flavorings, such as
lemon
or
mint
, are common with both types of tea. More recently,
green Earl Grey
has also become more popular.
Common traditional flavorings for green tea include fruit, toasted rice (
genmaicha
), flower petals (rose or
jasmine
), or
ginseng
.
High-quality flavored green teas typically include flavorings that are well-chosen to blend or harmonize with the characteristics of a carefully chosen base tea. Both Chinese and Japanese-style teas can be used as a base. Because of the tremendous diversity in the different styles of green tea, different teas blend best with different flavorings and ingredients.
When buying loose-leaf flavored green tea, we recommend looking at the different offerings that a company has, and seeing if they all use the same base tea. Companies with lower-quality teas will often use a single base tea and flavor it with different extracts. Companies can also use flavorings to mask lower-quality tea and thus generate a higher profit margin. We recommend seeking out blends where the flavorings are balanced with, rather than overpowering, the base tea.
↑Recent Flavored Green Tea Reviews — RSS
68 / 100

As customary for Mighty Leaf packaging, this blend comes in a sachet sewn on three sides with cotton threads, which then extend out to the string and the paper tag. Within the sachet, one easily can see the chopped green tea—mostly leaf pieces, but a few stems—and several assorted dried flower pieces that presumab...
Read Full Review
73 / 100

Substantively, this doesn't seem to be different from Harney's Bangkok tea (which I liked a lot and reviewed highly), but in even costlier sachets. Expensive stuff. Very expensive stuff. Did I mention it's pricey?

The value really drags on this product, because while it smells and tastes very good, paying ten b...
Read Full Review
80 / 100
An almost all-organic green tea-tisane blend, with Chinese green tea, apple, hibiscus, rosehip, strawberry, and strawberry flavoring. It has a very pleasant aroma and is offered at a good price. I like SerendipiTea's collection of flavored teas. In this, the apple and strawberry come through clearly, and the hibiscus...
Read Full Review
69 / 100
Cup at home, made from a sachet containing a mixture of green tea leaves and pieces of cinnamon, ginger, peppermint leaves and rose petals - all organic and sprinkled with natural flavourings. Pours clear peach yellow (against white china) with no sediment. Clear aroma of peppermint, ginger and green tea leaves. Bitter...
Read Full Review
85 / 100

Cup at work, made from a mixture of green tea leaves, marigold blossoms, pieces of mango, and passion fruit granulate, all sprinkled with flavour. Pours clear mango yellow (against white china) with no sediment. Clear, intense aroma of mango, with touches of green tea leaves and hints of passion fruit. Mildly bitter fl...
Read Full Review
↑Top Reviewers
Review 24 teas to get on this list!
Advertisement
↑Most-Rated Flavored Green Tea

12
12 Ratings

16
8 Ratings

18
6 Ratings

17
4 Ratings

80
4 Ratings
↑Top-Rated Flavored Green Tea

99
3 Ratings

94
4 Ratings

83
3 Ratings

80
4 Ratings
↑Varieties, Kinds, or Types of Flavored Green Tea