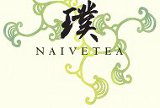 Most Reviewed By:

Naivetea – CLOSED



Last Updated: Jul. 24, 2016
Naivetea was a tea company based in the San Francisco bay area that focused exclusively on oolong tea, including both pure oolongs and scented/flavored oolongs. Naivetea set out to bring teas to the U.S. market that were difficult to otherwise obtain, particularly, the greener / less oxidized oolongs.

Some of Naivetea's teas were certified organic by TOPA (Taiwan Organic Production Association). Naivetea's website also sold tea sets produced by Tsun Jen Tuong Art Pottery in Taiwan.

The company closed in 2016; the announcement was made on social media on February 11th, 2016.
Most Often-Rated Teas

1 Rating

1 Rating
Top-Rated Teas
We need at least 3 ratings for a tea to calculate a percentile ranking. You can help us out by rating more teas from this brand.
Teas From Naivetea
The following is a selection of the 11 teas from Naivetea in our database.
You can also add a new tea. Please search or browse this company's teas first, to avoid adding duplicates.