Milky Oolong
Updated: Jun. 20, 2012
About Milky Oolong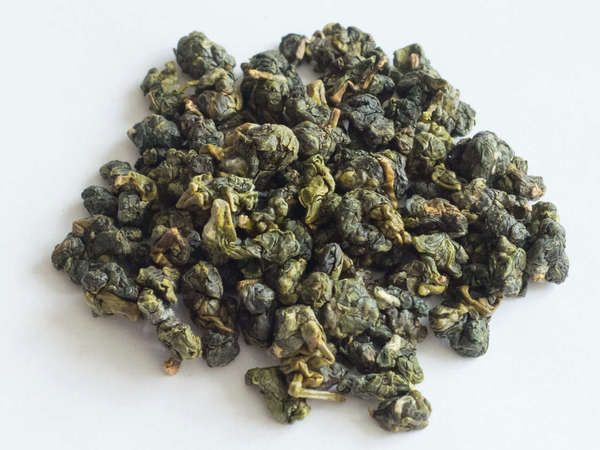 Loose-leaf Jin Xuan (Milky Oolong) Tea Leaves, Photo ©
Difference engine (Wikimedia Commons)
,
CC BY-SA 4.0
.
Milky oolong
or
milk oolong
, also known as
jian xuan
, is a style of oolong that has a milky aroma and a creamy and smooth quality, as if milk had been added. Milky oolongs are produced in both China and Taiwan, including in China in the Guangzhou(Quangzhou) region of Guangdong province.
Different sources provide conflicting information about milky oolong. The
Upton Tea Quarterly
says that the unique "milky aroma and creamy smoothness" are a result of special varietals[1], Hinas Tea claims there is a legend that it is a result of a temperature shift[2], Ten Ren claims the tea is scented with actual milk[3], and a tea blogger has claimed that the milky character is a result of artificial flavorings[4].
Tony Gebely explores these discrepancies in a post on his blog
World of Tea
, titled
Unraveling the Mystery of Milk Oolong a bit more: Admari Teas
. He quotes Adrienne Ann Etkin of
Admari Teas
, who explains that teas scented with steamed milk are used as a cheap alternative to the traditional production of milky oolong, which involve harvesting time and growing conditions. Gebely observes that the traditionally processed tea has superior flavor which is retained through as many as seven infusions. If you are concerned with how a particular tea marketed as "milky oolong" has been produced, it is important to research the particular tea you are buying and company you are buying from to verify how it has been produced.
References:
1. Upton Tea Quarterly, Vol. 18, No. 3, Summer 2009.
2. Quangzhou Milk Oolong, Hinas Tea, Retrieved Dec. 20, 2009.
3. Milky Oolong, Ten Ren Tea, Retrieved Dec. 20, 2009.
4. Guangzhou Milk Oolong, Me and My Tea, Feb. 24, 2009.
Best Milky Oolong
The notion of the "best" Milky Oolong is subjective, because different people have different tastes. We present the most often-rated and highest-rated teas in this category, and allow you to draw your own conclusions.
Most Often-Rated Teas
Top-Rated Teas

36
3 Ratings