Milky Oolong
Last Updated: Jun. 20, 2012
↑About Milky Oolong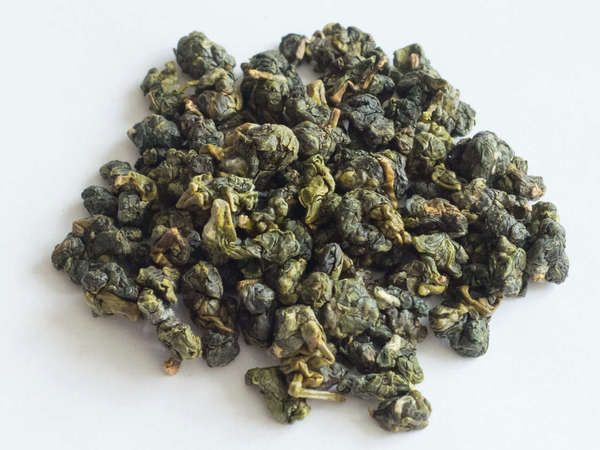 Loose-leaf Jin Xuan (Milky Oolong) Tea Leaves, Photo ©
Difference engine (Wikimedia Commons)
,
CC BY-SA 4.0
.
Milky oolong
or
milk oolong
, also known as
jian xuan
, is a style of oolong that has a milky aroma and a creamy and smooth quality, as if milk had been added. Milky oolongs are produced in both China and Taiwan, including in China in the Guangzhou(Quangzhou) region of Guangdong province.
Different sources provide conflicting information about milky oolong. The
Upton Tea Quarterly
says that the unique "milky aroma and creamy smoothness" are a result of special varietals[1], Hinas Tea claims there is a legend that it is a result of a temperature shift[2], Ten Ren claims the tea is scented with actual milk[3], and a tea blogger has claimed that the milky character is a result of artificial flavorings[4].
Tony Gebely explores these discrepancies in a post on his blog
World of Tea
, titled
Unraveling the Mystery of Milk Oolong a bit more: Admari Teas
. He quotes Adrienne Ann Etkin of
Admari Teas
, who explains that teas scented with steamed milk are used as a cheap alternative to the traditional production of milky oolong, which involve harvesting time and growing conditions. Gebely observes that the traditionally processed tea has superior flavor which is retained through as many as seven infusions. If you are concerned with how a particular tea marketed as "milky oolong" has been produced, it is important to research the particular tea you are buying and company you are buying from to verify how it has been produced.
References:
1. Upton Tea Quarterly, Vol. 18, No. 3, Summer 2009.
2. Quangzhou Milk Oolong, Hinas Tea, Retrieved Dec. 20, 2009.
3. Milky Oolong, Ten Ren Tea, Retrieved Dec. 20, 2009.
4. Guangzhou Milk Oolong, Me and My Tea, Feb. 24, 2009.
↑Recent Milky Oolong Reviews — RSS
70 / 100

It has a lovely creamy taste, while also being nice and flowery. It has a very warm flavour, it's nice and sweet too. It's good for lots of steepings and has a bright yellowish green colour.

I'm sometimes afraid I won't be able to distinguish new light oolongs I buy from others that I already have, but this one is d...
Read Full Review
65 / 100

An overall, 'meh' tea. Was not milky or creamy at all, but that was expected. Had a cabbage taste which was the main thing I disliked about this tea. I would recommend this tea if you a fine with a strong vegetal taste.
Read Full Review
0 / 100

This tea is a lie. It's mediocre oolong that's been sprayed with caramel apple flavoring. Republic of Tea isn't always the highest quality, but I at least expected them to be honest. The can gives no indication that it's flavored and the website positively claims that it isn't. At first I doubted my own senses, but I w...
Read Full Review
69 / 100

I drank this in Het Gouden Randje's tearoom.

It smelled sweet and creamy, and almost like custard. Definitely like vanilla. I was amazed with how the clear liquor tasted and felt milky. It's soft and sweetish.
It actually reminds me of a cheap artificial-vanilla-flavoured bagged tea that I used to drink years ago, ...
Read Full Review
50 / 100

My first "milky" oolong. Hmmm...
The aroma of the dry, dark, greenish-brown balls is overpoweringly sweet. I was shocked at how much it smells like caramel popcorn, with a creamy milk-like background. Quite bizarre, and smells more like something I'd eat rather than drink.

There's a lot of controversy with Milk ...
Read Full Review
↑Top Reviewers
Review 3 teas to get on this list!
Advertisement
↑Most-Rated Milky Oolong

60
3 Ratings

1 Rating

1 Rating
↑Top-Rated Milky Oolong

60
3 Ratings