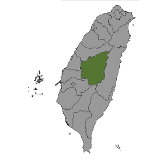 Most Reviewed By:

Nantou, Taiwan
Wikipedia: Nantou_County | Official Government Website: www.nantou.gov.tw/english/index.asp
Updated: Oct. 1, 2014
About Nantou, Taiwan
Nantou
is the central county in
Taiwan
, the second-largest, and the only landlocked county in Taiwan. Nantou is mountainous and has a low population density. The county borders many other tea-producing counties, including
Taichung
to the north, and
Chiayi
to the southwest.
Nantou is the principal tea-growing region of Taiwan, producing over 12,000 metric tons (11,000 tons) of tea annually; most of the tea is medium-quality, but the region also is home to two mountains, Dong Ding (Tung Ting), meaning
frozen summit
, and Shan Lin Xi, both of which produce top-quality
oolongs
.[1] Tea has been cultivated here since the mid-19th century; an earthquake in 1999 set back production somewhat, but the region has fully recovered.[2]
The region is also important in tea processing, perhaps due to its central location, with teas produced elsewhere being shipped here for processing. Although it is best-known for oolongs, the region produces a small amount of black tea, including Sun Moon Lake tea, produced around the lake of the same name (日月潭 or Ri yue tan in Chinese).[1]
Styles of Tea Produced in Nantou, Taiwan
This is a selection, not an exhaustive listing, of the styles of tea most commonly produced in Nantou, Taiwan.
Best Nantou Teas
The notion of the "best" Nantou teas is subjective, because different people have different tastes. We present the most often-rated and highest-rated teas produced in Nantou, Taiwan, and allow you to draw your own conclusions.