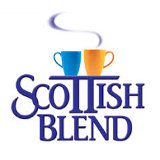 Most Reviewed By:
No one has reviewed any teas from this company yet!
Search Scottish Blend's teas:
Scottish Blend
Last Updated: Apr. 1, 2014
Scottish Blend is a brand of tea mostly available in Scotland, and owned by Unilever.

The concept of Scottish Blend tea is that it was blended specifically for Scotland's water, which is soft, the opposite of "hard water", and marketed to a Scottish audience.

Although Scottish Blend is a brand name, the term "Scottish Blend" and similar terms are sometimes used by a number of other tea companies, often to describe a Scottish Breakfast tea, a blend that is strong and sometimes slightly smoky.
Teas From Scottish Blend
The following is a complete listing of the 1 teas from Scottish Blend in our database.
If you want to review a tea not listed, you can add a new tea.
You can also add a new tea. Please search or browse this company's teas first, to avoid adding duplicates.