Unilever Tea Brands
Web: www.unilever.com | Wikipedia: List_of_Unilever_brands
Last Updated:

Mar. 16, 2018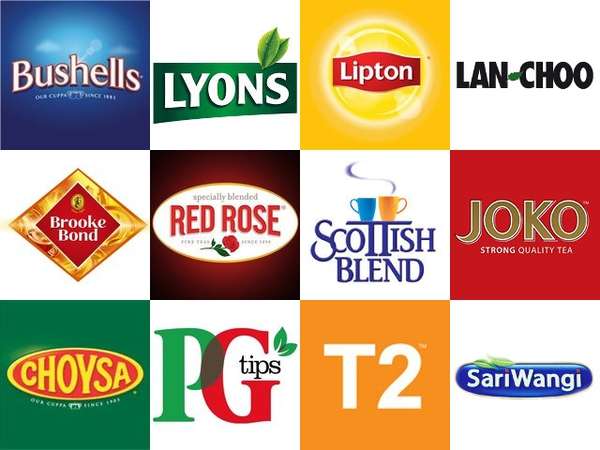 Twelve of Unilever's tea brands. How many of these do you recognize?
Unilever
is a large multinational corporation, headquartered in London and Rotterdam. Unilever owns hundreds of brands of different products, including food and drink, cleaning agents, and personal care products.
Unilever started as a merger of
Lever Brothers
, a British soap company, with the Dutch company
Margarine Unie
. Shortly after this merger, and in a process that has continued over the years, Unilever entered the tea market by buying tea companies. Unilever is now a dominant player in the tea market in many countries.
Among Unilever's tea brands are a number of well-known and popular brands of tea:


Brooke Bond - A UK-based company purchased by Unilever in 1984. Brooke Bond had its own brand of tea, which has since been discontinued, but is better known for being the originator of the PG Tips brand.


Bushells - An Australian brand of tea.


Choysa - A New Zealand tea company that is now also sold in Australia.


Joko - A South African brand.


Lan-Choo - Sold in Australia under the Bushells brand.


Lipton - A major tea brand worldwide, Lipton was gradually acquired by Unilever, starting in 1938 with the US and Canadian divisions and completing in 1972 with the remainder of the global Lipton brand.


Lyons - An Irish brand of tea, purchased by Unilever in 1996.


McColins Tea - A brand popular in Peru, but virtually unknown in most of the western world.


PG Tips - A brand of tea popular in the UK.


Pure Leaf - Primarily bottled tea, but also sells loose-leaf and teabags, in the U.S.


Red Rose Tea - A popular Canadian brand, Red Rose Tea is partly owned by Unilever; Unilever owns the Canadian part of the brand, but Unilever sold the rights to the brand in the U.S. to another company.


Saga Tea - A polish brand of tea, created by Unilever.


Sariwangi Tea - An Indonesian brand of tea.


Scottish Blend - As the name suggests, this brand is sold primarily in Scotland.


T2 Tea - A high-end loose-leaf tea company based in Victoria, Australia.


Tazo - Tazo rose to prominence as Starbucks brand; the company sold the brand to Unilever in 2017 after switching its own stores to using Teavana teas.


Diverse strategies Unilever uses to achieve market dominance
In some cases, Unilever has used its large size to acquire popular mainstream brands in various countries through purchasing smaller tea companies. In other cases, such as with Saga Tea in Poland, the company has introduced new brands specifically oriented to the market in a country.
Further Reading:
Read more articles on: