Scottish Breakfast
Last Updated: Mar. 14, 2014
↑About Scottish Breakfast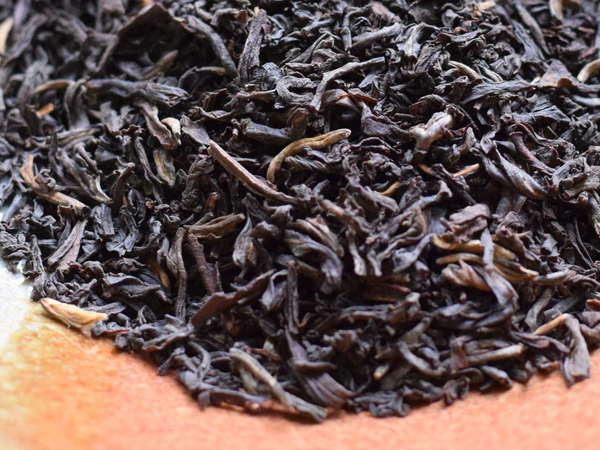 Loose-Leaf Scottish Breakfast Black Tea from Murchie's, Photo © Alex Zorach,
CC BY-SA 4.0
.
Scottish Breakfast
is a style of
breakfast black tea
. Like
English Breakfast
and
Irish Breakfast
, this tea is usually a blend of black teas from different regions, and is defined by its character, not by the particular teas used in the blend.
Scottish Breakfast tends to be strong, full-bodied, and bold in flavor, usually stronger than English Breakfast. More so than English and Irish breakfast teas, it often has smokiness and/or a suggestion of wood in the aroma, although the degree of smokiness is highly variable, and sometimes completely absent. Some blends achieve such character by blending
Lapsang souchong
with other black teas. Other teas commonly used in Scottish Breakfast include
Assam
, teas from
Kenya
, and
Ceylon
.
↑Recent Scottish Breakfast Reviews — RSS
90 / 100

My favorite breakfast tea. Less earthy than Adagio's English Breakfast tea, and smoother. Sadly, a little bit costly.
Read Full Review
85 / 100

A very malty tea that is just right with milk. Very enjoyable and nicely priced.
Read Full Review
84 / 100

This is a solid breakfast tea. I'm often not into plain black teas — especially of the "breakfast" variety. They often come off as too bitter or astringent. This tea, however, is smooth with a nice complexity. I like it a bit more than Adagio's Irish breakfast. As of this review, I've never tried their Engl...
Read Full Review
85 / 100

This tea is very good for a typical black tea. At around 20 cents per cup, it is a pretty decent value. It is very thick bodied and strong and it's a great tea to start my morning off with! It is also really interesting because, although its very similar to an english breakfast tea, it's slightly smokier and has a grea...
Read Full Review
65 / 100

To be honest, I didn't personally care for this tea :/ I mean this tea was a great value considering each box contains a whopping 55 bags compared to twinning's 20, but the flavor just wasn't there for me. The taste was rather bitter, but not in a strong and robust way, but almost like pool water. like chlorine. I can ...
Read Full Review
↑Top Reviewers
Review 2 teas to get on this list!
Advertisement
↑Most-Rated Scottish Breakfast

10
3 Ratings

81
3 Ratings

97
3 Ratings

2 Ratings
↑Top-Rated Scottish Breakfast

97
3 Ratings

81
3 Ratings

10
3 Ratings