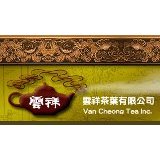 Most Reviewed By:
No one has reviewed any teas from this company yet!
Search Van Cheong Tea's teas:
Van Cheong Tea
Web: vancheong.ca
Last Updated: Dec. 1, 2013
Van Cheong Tea is a chain of traditional Taiwanese tea shops with locations in British Columbia, Canada. They specialize in oolong teas, especially high-grown oolongs, and ginseng oolong teas, which they call golden emperor teas. They also carry a variety of aged pu-erhs. In addition to their loose and whole-leaf teas, they also sell some tea in teabags.
Teas From Van Cheong Tea
The following is a selection of the 31 teas from Van Cheong Tea in our database.
You can also add a new tea. Please search or browse this company's teas first, to avoid adding duplicates.