Ginseng Oolong
Updated: Apr. 4, 2012
About Ginseng Oolong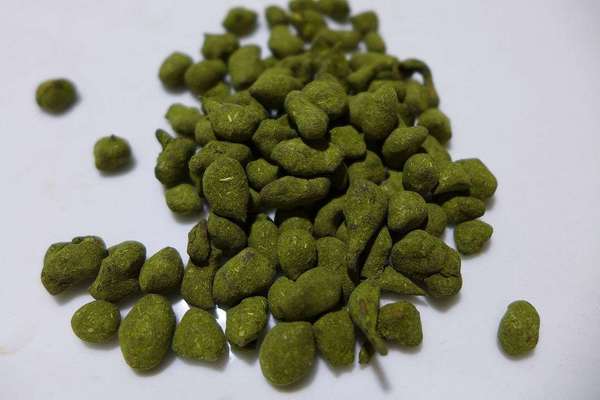 Loose-leaf Ginseng Oolong Tea, showing its characteristic pebble-like texture. Photo ©
Qirille (Wikimedia Commons)
,
CC BY-SA 4.0
.
Ginseng oolong tea
is oolong tea, often greener (less
oxidized
)
high-mountain oolong tea
, that has been blended with
ginseng
, an herb valued for its medicinal properties. This blend is sometimes referred to as
king's tea
,
emperor tea
, or
emperor oolong tea
, or similar names.
Ginseng tends to have a strong, earthy aroma which is not normally considered pleasing on its own; it is rarely used as an ingredient solely for taste, instead being included primarily for health reasons. However, the smoothness and sweetness of high-grown, greener oolong teas can complement the flavor and aroma of ginseng, and the earthy characteristics of both oolong tea and ginseng blend fairly well, making this a fairly natural blend of ingredients that some people do drink primarily for its flavor.
Sometimes other flavorings or ingredients are added to these blends; we list such blends in this category if the base tea as an oolong and ginseng is the primary other ingredient.
Best Ginseng Oolong
The notion of the "best" Ginseng Oolong is subjective, because different people have different tastes. We present the most often-rated and highest-rated teas in this category, and allow you to draw your own conclusions.
Most Often-Rated Teas
Top-Rated Teas
We need at least 3 ratings for a tea to calculate a percentile ranking. You can help us out by rating more teas of this style.